Happy Birthday – all about birthdays and horoscopes
Look forward to an entertaining time from the world of birthdays: inspiring gift ideas, the rise of the birthday, the birth of signs of the zodiac and horoscopes, the individual star signs and how to say "Happy Birthday" in 53 different languages. Just click on the headlines that interest you and enjoy!
Inspirational: out-of-the-ordinary & very personal birthday bouquets and plants
Bouquet or pot plant? What colours? And which add-on product would suit the birthday boy or girl? Our inputs will help.
Match your gift to the type: people can be unconventional, nature-loving, purist, sensitive, romantic or – in the best sense of the word – traditionalists and be attracted by timeless elegance. The particularly suitable colours, flowers and even add-on gifts may depend on this. Find out more about the subject on our special "Who is what type" page and get specific tips on gifts.


Surprise someone with a horoscope bouquet: astrologers also assign colours to the star signs in a horoscope. For example, fiery shades for Aries, yellow nuances for Gemini or pastels for Cancer. Fleurop's horoscope bouquets are composed in the appropriate colours.

You'll find our advice on gifts for particular types of people HERE.

You'll find our horoscope bouquets HERE.

This is how birthdays began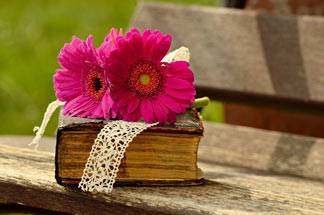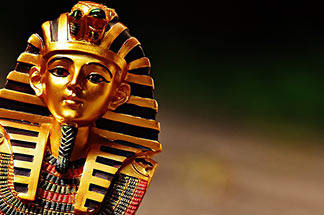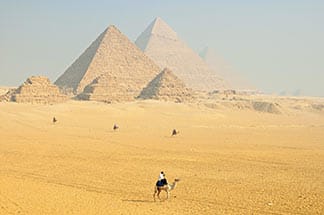 The first definite knowledge about the celebration of birthdays comes down to us from Ancient Egypt. However, only the Pharaoh's birthday was celebrated there – not on the date when he came into the world, but on the day of his coronation. The Egyptian people believed this was the day that the Pharaoh was transformed into a god. And this "birth" was more important than the earthly one. The birthday of a Pharaoh is also mentioned in the Bible. But even here, Egyptologists agree that this referred to his coronation day. Later on, the Romans appear to have been the first people who celebrated not only the birthdays of divinities and leaders, but also those of prosperous citizens. To preserve birthday boys from evil, they called to protective spirits on such occasions. Invitations, blessings, gifts, speeches and poems were also in evidence. Only the birthdays of boys and men were celebrated, those of girls and women were only included from the 12th century onwards.
To find our birthday surprises for men AND women, click HERE.
To our most beautiful birthday wishes click HERE.
In China, you're born at the age of one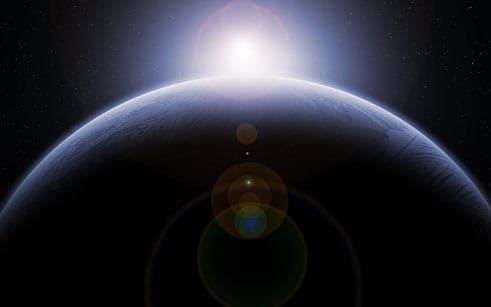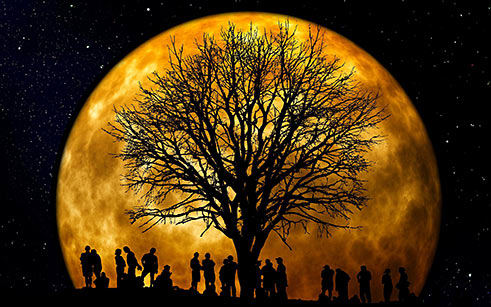 When and how do the Chinese celebrate birthdays? It's hard to say, as even the date of a birth is highly controversial. Because quite apart from the fact that a Chinese person is considered to be one year old at the time of their birth, rice growers and cattle herders saw no reason at all why they should bother about such irrelevancies as birthdays until around 30 years ago. Then they suddenly needed ID documents, which presented people with problems: many of them had no idea of their date of birth. There was also the tricky issue of the two calendars. In China, there's the moon calendar, which determines the whole of your personal life ... and the official sun calendar, which is the one we're familiar with. It's just that the ID document contained some dates according to one calendar and some according to the other, and sometimes even a fantasy date because some folk had no idea when they were born. That's why birthdays are rarely celebrated. But if they are, then birthday noodles are on the menu on the day when their ID says they were born. They're a symbol of longevity, because ... well, because they're long, longer than our spaghetti.
To find our long-stem roses for a long life, click HERE.
Copyright controversy about the Happy Birthday song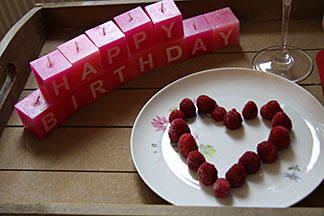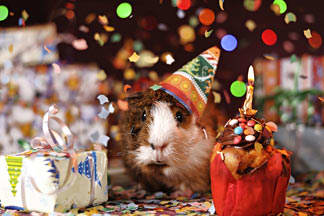 Everyone knows the song "Happy Birthday". But few have heard of the legal wrangles that surround it. It all started so well, with a children's song that was written by two US American sisters. The tune was written in 1883 by educator Mildred Hill, the text by her sister Patty, who was also the head of a kindergarten. At the time, it was a welcome song because the lyrics were: "Good Morning to All". It turned out later that there were also songs from earlier years with similar words, such as "Happy Greetings to All" and "A Happy New Year to You All". However, the kindergarten pupils loved the Hill sisters' version, sang "Good Morning to All" and changed the lyrics spontaneously on birthdays only, when they sang "Happy Birthday to You". Later on, a music publisher protected the Happy Birthday version by copyright and prohibited all public singing of the song on TV, in films, on the radio, in public buildings and even in large groups unless they paid a fee. Fortunately, a judge recalled that the lyrics were by the kindergarten and the melody by Mildred Hall, and cancelled the copyright in 2015. The song now exists in 18 languages.
Birthday wishes in a foreign language? You'll find "Happy Birthday" in 53 languages HERE.
Happy Birthday? You'll find our horoscope bouquets HERE.
Zodiac signs are symbolic images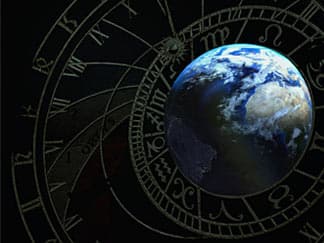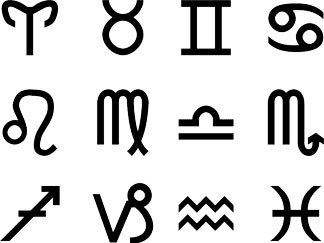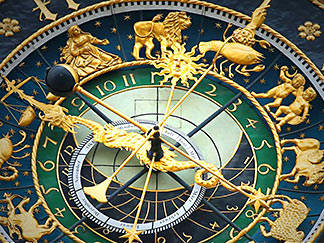 Even thousands of years ago, ancient peoples observed configurations in the sky and named them after animals, heroes and gods. Astrology is thought to have originated in Mesopotamia, where the Sumerians pursued the science as early as the 3rd millennium before Christ. As in all high cultures, observing the stars played an important role and was therefore frequently in the hands of the priesthood. For example, auspicious times for sowing and harvesting were determined by the stars. But rulers also sought the advice of astrologers on starting battles. Around 500 B.C., experts on the heavenly bodies from Mesopotamia and Greece worked closely together. The division of the "ecliptic" (apparent movement of the sun and planets) into twelve sectors of equal size that is still in common use was developed in this era: the signs of the zodiac that are familiar to this day. At first, they were associated with constellations of the same name. However, as the stars moved constantly with the cycle of the year, western astrologers used the tropical zodiac from around the time of Christ's birth onwards. This is based on the four pivotal points in the annual cycle, regardless of the stars: in other words, the spring equinox, the summer solstice, the autumn equinox and the winter solstice. The tropical zodiac serves the western horoscope as a measuring circuit. The sign of the zodiac in which the sun is positioned at the time of a person's birth is considered to be that person's star sign.
You'll find our twelve horoscope bouquets HERE.
Birth horoscopes and the mysterious glimpse of future time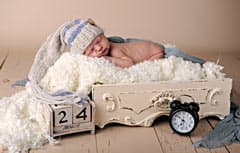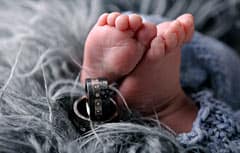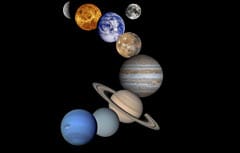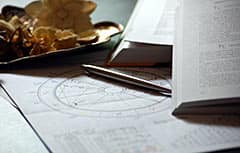 Birth horoscopes existed long before ordinary mortals celebrated their birthdays. Such horoscopes originated in Babylon, where one has been found dating back to the year 410 B.C. These early horoscopes consisted of information about the position of the planets in the signs of the zodiac, with the addition of very simple interpretations. For example: "His days will be many". They became more detailed later on. With precise facts about the date, time and place of birth, the character and other personal features could also be read from the birth horoscope. In Greek antiquity, horoscopes were mainly drawn up for rulers and priests or for a community. Later, wealthy Romans were the first to have individual horoscopes created for themselves. By the way: special positions of the planets were considered to be a sign of great power for a new ruler. The word "horoscope" comes from Greek and is composed of "hora", which means hour or time, and "skopein", which means to glimpse or look. A horoscope is thus, so to speak, "a glimpse into time".
You'll find our twelve horoscope bouquets HERE.
Star sign Aries: impulsive
Birthday: 21 March to 20 April
Aries subjects are courageous, ambitious, adventurous and strong-willed. They are impulsive, self-confident and forthright. They're fighters by nature and master their lives without fear of obstacles. Aries people always want to handle everything on their own, but have to learn to accept help and act as part of a team.
Planet: Mars
Element: Fire
Keyword: I am
Season: Beginning of spring
Archetype: Fighter, warrior
Mission: Self-assertion
Colours: Glowing colours, shades of red
Lucky gems: Carnelian, ruby, red agate
Famous Aries subjects:

Film & theatre: Alec Baldwin, Marlon Brando, Jackie Chan, Charlie Chaplin, Keira Knightley, Eddie Murphy, Sarah Jessica Parker, Gregory Peck, Quentin Tarantino, Emma Watson
Literature: Samuel Beckett, Wilhelm Busch, Maxim Gorky, Heinrich Mann, Patrick Süskind, Edgar Wallace, Tennessee Williams, Emile Zola
Painting: Vincent Van Gogh
Music: Johann Sebastian Bach, Eric Clapton, Céline Dion, Aretha Franklin, Elton John, Lady Gaga, Herbert Grönemeyer, Joseph Haydn, James Last

You'll find our horoscope bouquets HERE.
Star sign Taurus: dependable
Birthday: 21 April to 20 May
Taurus subjects are self-assured, stubborn, persevering and hard-working, but also capable of enjoying life to the full. They are loyal friends and protect those they love. People born under Taurus keep their feet on the ground. They only take a risk if they are certain that whatever they stake will not be wasted.
Planet: Venus
Element: Earth
Keyword: Ownership
Season: Mid-spring
Archetype: Epicure, farmer
Mission: Security
Colours: Pleasant, gentle pastels of all colours
Lucky gems: Carnelian, lapis lazuli, rose quartz, rhodonite, emerald, sapphire, topaz
Famous Taurus subjects:

Film & theatre: Pierce Brosnan, George Clooney, Penélope Cruz, Audrey Hepburn, Jack Nicholson, Al Pacino, Michelle Pfeiffer, Barbra Streisand
Literature: Honoré de Balzac, Charlotte Brontë, Max Frisch, Christian Morgenstern, William Shakespeare
Painting: Josef Beuys
Music: Johannes Brahms, Cher, Joe Cocker, Ella Fitzgerald, Udo Lindenberg, Sergei Prokofiev, Peter Tchaikovsky, Stevie Wonder

You'll find our horoscope bouquets HERE.
Star sign Gemini: persuasive
Birthday: 21 May to 21 June
They are adroit, tolerant, have a sense of humour and are fascinating. They're entertaining and friendly, but without demanding long-term relationships. Geminis enjoy debate, are persuasive and make ideal mediators. Because Gemini subjects juggle a lot of balls in the air at any one time, they always have to try to stay centred so as not to lose themselves.
Planet: Mercury
Element: Air
Keyword: Thinking
Season: Transition from spring to summer
Archetype: Thinker, intellectual
Mission: Combating the dichotomy between outside influences and their inner world
Colours: Light and airy colours, likes a mixture
Lucky gems: Citrine, amber, orange calcite
Famous Gemini subjects:

Film & theatre: Johnny Depp, Clint Eastwood, Rainer Werner Fassbinder, Morgan Freeman, Angelina Jolie, Stan Laurel, Marilyn Monroe
Literature: Ian Fleming, Ken Follett, Heinrich Hoffmann, Federico Garcìa Lorca, Robert Ludlum, Thomas Mann, Alexander Pushkin, Marcel Reich-Ranicki, Johanna Spyri
Painting: Albrecht Dürer, Paul Gauguin, Egon Schiele, Diego Velàzquez
Music: Miles Davis, Bob Dylan, Edvard Grieg, Dean Martin, Paul McCartney, Lionel Richie, Robert Schumann, Richard Strauss, Richard Wagner

You'll find our horoscope bouquets HERE.
Star sign Cancer: helpful
Birthday: 22 June to 22 July
Cancer subjects are romantic and sensitive. They live in the depths of their soul. To protect their delicate inner life, they generally develop a protective shell as early as childhood. They are good-natured, helpful and good listeners. Cancer subjects will literally do anything for their family because they're constantly in search of a real home.
Planet: The moon
Element: Water
Keyword: Feeling
Season: Early summer
Archetype: Carer
Mission: Devotion to their emotions and finding their personal home
Colours: Pastels
Lucky gems: Aventurine, chalcedony, chrysocolla, chrysoprase, carnelian, moonstone, rhodochrosite, emerald, pearl
Famous Cancer subjects:

Film & theatre: Tom Cruise, Harrison Ford, Tom Hanks, Sylvester Stallone, Meryl Streep, Robin Williams
Literature: Ernest Hemingway, Hermann Hesse, Franz Kafka, Gottfried Keller, Pablo Neruda, Erich Maria Remarque, Antoine de Saint-Exupéry
Painting: Marc Chagall, Frida Kahlo, Gustav Klimt, Peter Paul Rubens
Music: Gustav Mahler, George Michael, Anne-Sophie Mutter, Ringo Starr

You'll find our horoscope bouquets HERE.
Star sign Leo: strong-willed
Birthday: 23 July to 23 August
Leo subjects are self-confident, strong-willed and impulsive, but can also lie blissfully in the sun and indulge themselves. They are loyal and generous towards partners and friends and never forget if someone has done them a favour. Leo subjects don't just want to be loved for themselves, but for their deeds.
Planet: The sun
Element: Fire
Keyword: Being
Season: Midsummer
Archetype: King
Mission: Living
Colours: Brightly radiant, warm colours such as sunshine and golden yellow, reddish orange
Lucky gems: Rock crystal, amber, citrine, topaz, diamond, carnelian, onyx, quartz, peridot, ruby
Famous Leo subjects:

Film & theatre: Antonio Banderas, Sandra Bullock, Götz George, Alfred Hitchcock, Jennifer Lopez, Robert de Niro, Daniel Radcliffe, Arnold Schwarzenegger, Patrick Swayze
Literature: Emily Brontë, Charles Bukowski, Elias Canetti, Aldous Huxley, Stieg Larsson, Guy de Maupassant, Joanne K. Rowling, George Bernard Shaw
Painting: Emil Nolde, Giorgio Vasari, Andy Warhol
Music: Louis Armstrong, Helene Fischer, Whitney Houston, Mick Jagger, Madonna

You'll find our horoscope bouquets HERE.
Star sign Virgo: straightforward
Birthday: 24 August to 23 September
Virgo subjects are quiet, diligent, tidy-minded, adaptable and wise and enjoy taking responsibility. They are keen observers and draw their own conclusions. They approach everything in a straightforward and systematic way. Virgos have a lot of empathy and enjoy serving the community at large.
Planet: Mercury
Element: Earth
Keyword: Analysis
Season: End of summer, harvest time
Archetype: Analyst, alternative medicine practitioner, doctor
Mission: Be adaptable and help others
Colours: Discreet colours such as pale yellow and white
Lucky gems: Tiger-eye, citrine, yellow topazFamous Virgo subjects:

Film & theatre: Ingrid Bergmann, Sean Connery, Greta Garbo, Richard Gere, Romy Schneider, Charlie Sheen
Literature: Agatha Christie, Paulo Coelho, Johann Wolfgang von Goethe, Stephen King, Eduard Mörike, Rosamunde Pilcher, Leo Tolstoy
Painting: Caspar David Friedrich
Music: Ray Charles, David Garrett, Michael Jackson, B. B. King, Beyoncé Knowles, Peter Maffay, Freddie Mercury, Anna Netrebko, Amy Winehouse

You'll find our horoscope bouquets HERE.
Star sign Libra: truth-loving
Birthday: 24 September to 23 October
Libra subjects are likeable, sophisticated and aesthetically inclined, and draw on their enormous "love reservoir" whenever they can. They stand for relationships of all kinds, need harmony and would do anything to bring warring parties together again. Librans also create art and beauty and are tactful, polite and tolerant.
Planet: Venus
Element: Air
Keyword: Balance
Season: Early autumn
Archetype: Lawyer, artist
Mission: Mediate and make people aware of the beauty in the world
Colours: Pleasantly soft pastels of all colours, e.g. yellow and orange
Lucky gems: Aquamarine, aventurine, beryl, citrine, jade, nephrite, opal, peridot, smoky quartz, green tourmaline
Famous Libra subjects:

Film & theatre: Julie Andrews, Brigitte Bardot, Catherine Deneuve, Michael Douglas, Christiane Hörbiger, Klaus Kinski, Marcello Mastroianni, Walter Matthau, Roger Moore, Gwyneth Paltrow, Christopher Reeve, Will Smith, Sigourney Weaver, Kate Winslet, Catherine Zeta-Jones
Literature: Miguel de Cervantes, Günter Grass, Heinrich von Kleist, Donna Leon, François Mauriac, Arthur Miller, Günther Wallraff, Oscar Wilde
Painting: Alberto Giacometti
Music: Bob Geldorf, George Gershwin, Udo Jürgens, John Lennon, Luciano Pavarotti, Giuseppe Verdi, Eminem, Franz Liszt

You'll find our horoscope bouquets HERE.
Star sign Scorpio: intense
Birthday: 24 October to 22 November
Scorpio subjects have enquiring minds, willpower and deep emotions. They have a soft centre behind a hard shell. They love profundity and are attracted to the hidden facets of society. Scorpio subjects love passionately and uncompromisingly. A partner is the way to their total transformation.
Planet: Pluto
Element: Water
Keyword: Desire
Season: Mid-autumn
Archetype: Magician, shaman
Mission: Transformation of the dark parts of their own character into light
Colours: Colours that express excitement, such as dark red and garnet red
Lucky gems: Agate, aquamarine, carnelian, chalcedony, chrysoprase, garnet, haematite, obsidian, smoky quartz, ruby, red tourmaline
Famous Scorpio subjects:

Film & theatre: Roberto Benigni, Leonardo DiCaprio, Jodie Foster, Whoopi Goldberg, Anne Hathaway, Vivien Leigh, Demi Moore, Julia Roberts, Meg Ryan, Martin Scorsese, Luchino Visconti
Literature: Albert Camus, Fyodor Dostoevsky, Selma Lagerlöf, Astrid Lindgren, Klaus Mann, Friedrich Schiller, Voltaire
Painting: Claude Monet, Pablo Picasso, Auguste Rodin, Jan Vermeer
Music: Gilbert Bécaud, Georges Bizet, Björk, Paul Hindemith, Niccolò Paganini, Eros Ramazzotti, Johann Strauss, Conchita Wurst

You'll find our horoscope bouquets HERE.
Star sign Sagittarius: tolerant
Birthday: 23 November to 21 December
Sagittarius subjects love things to be elegant, but also casual and unconventional. They are adventurous, open, tolerant and understanding. In order to arrive at their own view of the world, Sagittarians engage with foreign cultures, religions and philosophy. Many Sagittarians even travel all over the world to broaden their horizons.
Planet: Jupiter
Element: Fire
Keyword: Awareness
Season: End of autumn, transition to winter
Archetype: Priest, philosopher
Mission: Know themselves, seek and proclaim the meaning of life
Colours: Strong autumn colours such as rust red, yellow, dark orange
Lucky gems: Amethyst, rock crystal, beryl, chalcedony, garnet, lapis lazuli, sapphire, sodalite, spinel, topaz
Famous Sagittarius subjects:

Film & theatre: Woody Allen, Walt Disney, Kirk Douglas, Anke Engelke, Armin Mueller-Stahl, Brad Pitt, Til Schweiger, Steven Spielberg
Literature: Jane Austen, Heinrich Böll, Friedrich Engels, Gustave Flaubert, Heinrich Heine, Rainer Maria Rilke, Aleksandr Solzhenitsyn, Mark Twain
Painting: Henri de Toulouse-Lautrec
Music: Ludwig van Beethoven, Maria Callas, José Carreras, Gaetano Donizetti, Jimi Hendrix, Edith Piaf, Frank Sinatra, Tina Turner

You'll find our horoscope bouquets HERE.
Star sign Capricorn: persevering
Birthday: 22 December to 20 January
Capricorn subjects are persistent, strong-willed, tough, dependable and diligent. They pursue a straightforward and correct path, but also have a soft side for all their single-mindedness. It is primarily the family that is of special importance to Capricorns.
Planet: Saturn
Element: Earth
Keyword: Doing, action
Season: Early winter
Archetype: Politician, judge
Mission: Self-discipline
Colours: Strong yellow, indigo
Lucky gems: Amethyst, beryl, cat's eye, malachite, moss agate, onyx, peridot, smoky quartz, rose quartz, ruby
Famous Capricorn subjects:

Film & theatre: Humphrey Bogart, Nicolas Cage, Kevin Costner, Gérard Depardieu, Marlene Dietrich, Federico Fellini, Mel Gibson, Cary Grant, Oliver Hardy, Diane Keaton, Hildegard Knef, Denzel Washington
Literature: Simone de Beauvoir, Friedrich Dürrenmatt, Umberto Eco, Theodor Fontane, Rudyard Kipling, Molière, Edgar Allen Poe, Kurt Tucholsky, Carl Zuckmayer
Painting: Paul Cézanne, Henri Matisse, Sophie Täuber-Arp
Music: Joan Baez, David Bowie, Janis Joplin, Elvis Presley, Giacomo Puccini, Rod Stewart
Star sign Aquarius: unconventional
Birthday: 21 January to 19 February
Aquarius subjects are dependable, freedom-loving, unconventional and sociable. They can also be very kind. They like to help socially disadvantaged people and empathise with everyone. They need space and don't like to be fenced in.
Planet: Uranus
Element: Air
Keyword: I know
Season: Mid-winter
Archetype: Fool, mad scientist
Mission: Free themselves of all restrictions and create something new
Colours: Pale to lemon yellow
Lucky gems: Amazonite, amethyst, aquamarine, hawk's eye, garnet, jasper, sapphire, blue topaz, turquoise
Famous Aquarius subjects:

Film & theatre: Jennifer Aniston, James Dean, Clark Gable, Gene Hackman, Nastassja Kinski, Ashton Kutcher, Jack Lemmon, Paul Newman, Burt Reynolds, John Travolta
Literature: Vicky Baum, Bertolt Brecht, Charles Dickens, John Grisham, James Joyce, William Somerset Maugham, Boris Pasternak, Stendhal, Jules Verne, Virginia Woolf
Painting: Edouard Manet, Gerhard Richter
Music: Dieter Bohlen, Phil Collins, Plàcido Domingo, Falko, Bob Marley, Wolfgang Amadeus Mozart, Axl Rose, Shakira, Franz Schubert, Justin Timberlake, Robbie Williams

You'll find our horoscope bouquets HERE.
Star sign Pisces: sensitive
Birthday: 20 February to 20 March
Pisces subjects are sensitive and have a strong aesthetic sense. They are intelligent, creative and have strong interpretative skills. In addition, they like to help out, spontaneously and without counting the cost. Pisceans can be great idealists and devote themselves totally to a good cause.
Planet: Neptune
Element: Water
Keyword: Faith
Season: Transition from winter to spring
Archetype: Doctor, priest, teacher
Mission: Find redemption in this world
Colours: Purple, white, opal colours, colours that express desire
Lucky gems: Amethyst, blue quartz, fluorite, jade, moonstone, opal, sapphire
Famous Pisces subjects:

Film & theatre: Ursula Andress, Drew Barrymore, Bernardo Bertolucci, Glenn Close, Daniel Craig, Peter Fonda, Joachim Fuchsberger, Spike Lee, Jerry Lewis, Anna Magnani, Liza Minnelli, Heinz Rühmann, Elizabeth Taylor, Bruce Willis
Literature: Victor Hugo, John Irving, Erich Kästner, Karl May, John Steinbeck, John Updike
Painting: Michelangelo Buonarroti
Music: Harry Belafonte, Enrico Caruso, Johnny Cash, Frédéric Chopin, Kurt Cobain, Georg Friedrich Händel, George Harrison, Brian Jones, Glenn Miller, Liza Minnelli, Rihanna, Antonio Vivaldi

You'll find our horoscope bouquets HERE.
Happy Birthday in 53 languages
Afrikaans: Gelukkige Verjaarsdag
Albanian: Gzuar Dit-lindjën
Arabic: eid mīlad sa'aīd
Basque: Zorionak zuri
Belarusian: Z dniom naradžennia
Bengali: shubho jônmodin
Bosnian: Sretan rođendan
Breton: Deiz-ha-bloaz laouen
Bulgarian: Čestit rožden den
Burmese: muay net mar pyaw chin ba zay
Cantonese: sàangyaht faailohk
Catalan: Per molts anys
Corsican: Felice anniversariu
Creole: Bòn fèt
Croatian: Sretan rođendan
Czech: Všechno nejlepší
Danish: Tillykke med fødselsdagen
Dutch: Gefeliciteerd met je verjaardag
English: Happy Birthday
Esperanto: Feliĉan naskiĝtagon
Estonian: Palju õnne sünnipäevaks
Farsi: tavallodet mobārak
Finnish: Hyvää syntymäpäivää
Flemish: Gelukkige verjaardag
French: Joyeux anniversaire
German: Alles Gute zum Geburtstag
Greek: Hróña Pollá
Hebrew: Yom Huledet Sameakh
Hindi: janmadin mubārak ho
Hungarian: Boldog születésnapot
Icelandic: Til hamingju með afmælið
Indonesian: Selamat ulang tahun
Inuktitut: Nalliuniqsiutsiarit
Irish Gaelic: Breithlá sona duit
Italian: Buon compleanno
Korean: saeng-il chukha hamnida
Kurdish: Rojbûna te pîroz be
Latvian: Apsveicu dzimšanas dienā
Lithuanian: Sveikinu gimtadienio proga
Macedonian: Sreken rodenden
Malagasy: Arahaba ianao
Maltese: Nixtieqlek jum għeluq sninek sabiħ
Mandarin: shēngrì kuàilè
Norwegian: Gratulerer med dagen
Polish: Wszystkiego najlepszego
Portuguese: Feliz aniversário, parabéns
Romanian: La mulți ani
Russian: S dniom roždenija!
Serbian: Srećan rođendan
Slovakian: Všetko najlepšie k narodeninám
Slovenian: Vse najboljše
Spanish: Feliz cumpleaños
Swahili: Furaha katika siku yako ya kuzaliwa!
Swedish: Grattis på födelsedagen
Tamil: iniya pirandha naal nalvaazthukkal
Thai: sùk san wan gèrt
Turkish: Doğum günün kutlu olsun
Ukrainian: Z dnem narodžennia
Vietnamese: Chúc mừng sinh nhật
Welsh: Penblwydd hapus

You'll find our horoscope bouquets HERE.