Advertising
>> Poster campaign

Flowers from beyond the grave:
Fleurop wins the Best Swiss TV Spot Of All Time award.
Fleurop's Wedding Anniversary commercial is the best ever Swiss television spot. The moving account of a widow who receives flowers from her deceased husband on their wedding anniversary wowed the Swiss advertising industry.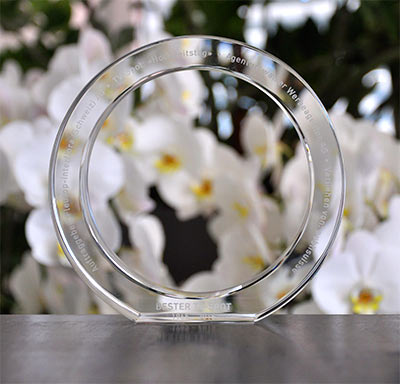 Switzerland's first-ever television commercial was broadcast on 1 February 1965. Since then, some 6.8 million commercials have been aired on the Swiss SRG SSR television channels. Recently, the creative minds of the Swiss communication industry were asked to review 57 prize-winning TV commercials and cast their votes online for the best ever TV spot of the past 50 years. And the winner is … the Fleurop Wedding Anniversary commercial! Set in a cemetery, it tells the poignant story of a widow who receives a bunch of flowers from her late husband – thanks to Fleurop. The commercial was developed and produced by Pius Walker. The award for the all-time best Swiss TV spot was presented at the ADC gala event on April 18 2015 in Zurich's Volkshaus venue.

"The Fleurop spot has a twofold emotional impact," says Martin Schneider, CEO of publisuisse. "Twofold because the voice of the late husband is that of wonderful Swiss actor Mathias Gnädinger. That was very touching, all the more so since I am a huge fan of his."
British film director and Oscar winner Anthony Minghella directed the commercial for Fleurop-Interflora (Switzerland). He brought his subtle style to bear on the screenplay written by the Zurich-based walker advertising agency to promote the flower delivery service of Fleurop Schweiz. In the short time of 60 seconds, he conjured up an extraordinary blend of grace and sorrow, which elicits a great deal of emotional viewer involvement. The commercial was launched on 30 November 2006 in 150 cinemas in Switzerland and was, innovatively, screened in the block of trailers ahead of the main film.

An Anglo-Swiss co-production
On the basis of the screenplay created by Pius Walker, Oscar award winner Anthony Minghella (1954-2008) shot the one-minute spot for Swiss flower delivery specialist Fleurop-Interflora (Schweiz) in north London, with Minghella himself as the original voice actor. The services of Swiss actor Mathias Gnädinger, who died not long ago, were secured for the German off-screen voice.

Anthony Minghella obviously enjoyed directing the shoot: "It's a story with a good soul. It was a complete pleasure to work on it from start to finish." And it was also a special project for Pius Walker, founder of the walker advertising agency: "We knew that shooting a commercial is not high on the priority list of an Oscar winner. But we also knew that he would be the ideal choice for this screenplay, so we sent it to him." Walker was impressed by the swift response: "A few hours later he called and asked when I could be in London."
TV-Sponsoring Billboards

International Campaign

Spot before 2000