February 14 is St. Valentine's Day: only love counts!


Looking for interesting and amusing snippets all about Valentine's Day: about its history and meaning or about gift ideas? Click on the headlines that interest you and enjoy reading.
Who invented it?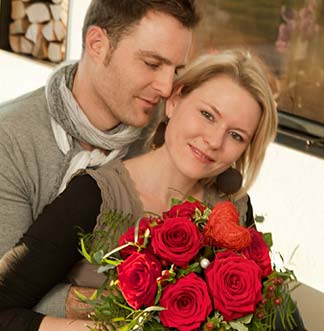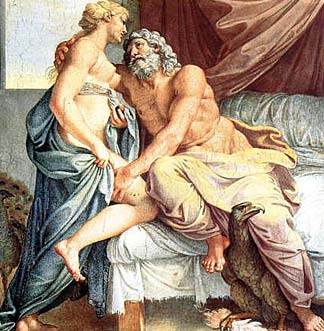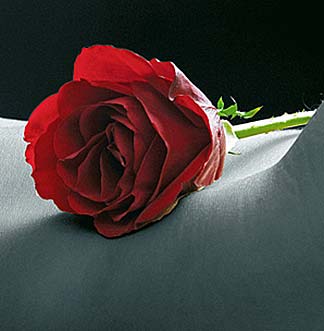 Many people contend that Fleurop invented Valentine's Day. But that's not true, because it's more than 2,000 years old. The Ancient Romans were the first to celebrate the "Day of Love" for three days from 13 to 15 February – they even ran a love lottery.
Then Christianity arrived. That put a stop to loose conduct. Instead of love lotteries there were suddenly saints' lotteries, which didn't really have much more of an appeal. In addition, the Church now named the day "Valentine's Day" because name days had arisen by this time and 14 February was dedicated to Saint Valentine. Fortunately, "Valentine's Day" later became associated with the ecstasy of love again. Today, Valentine's Day is famous in many parts of the world and flowers play a prominent role everywhere.
Looking for something lovable for your loved one? The shop is HERE.
More than 50,000 messengers of the gods at work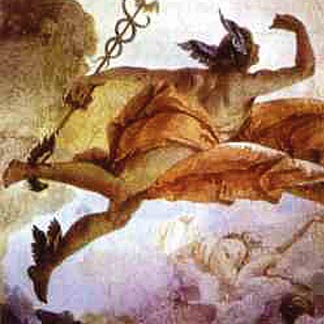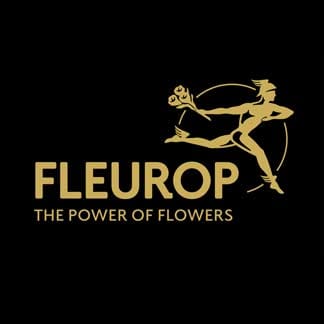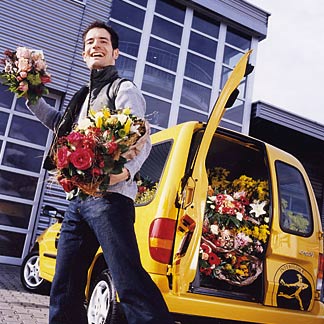 Fleurop didn't invent the Day of Love. However, the company does have something to do with its real founders – the Ancient Romans – in so far as the Roman god Mercury makes an appearance in its logo. He was also the messenger of the gods. And that explains why he is always portrayed with winged shoes and a winged hat. This appealed to the inventors of Fleurop because the many bouquets with their messages also have to be delivered as fast as possible. However, one messenger of the gods can't do it all on his own. And so crews with messenger-of-the-gods ability are now deployed at over 50,000 Fleurop florists around the globe.
There's one difference, however, between the "Original Mercury" and the one on the Fleurop logo. The latter has a bouquet of flowers in his hand instead of a staff. But he's very fast. And on Valentine's Day ..... well, even the original couldn't do better.
Butterflies in your stomach, but frog in your throat? For our template collection click HERE.
Care to test a messenger of the gods? The shop is HERE.
Proposal of marriage on the Eiffel Tower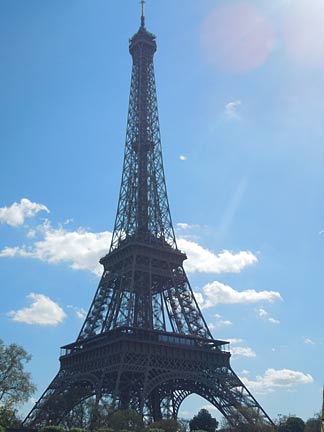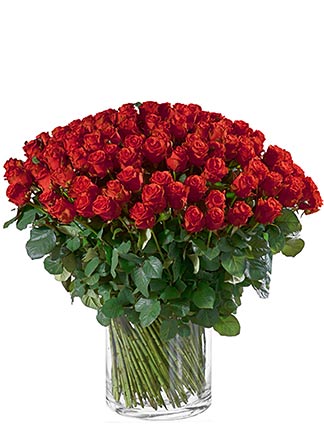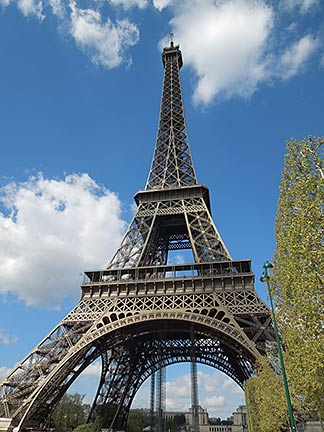 For Fleurop with its global reach, Valentine's Day always comes with unusual love stories. For example, there was the partner florist in Paris where an employee had to take 101 long-stem red roses to the Eiffel Tower one Valentine's Day. A young man wanted to propose to his girlfriend on the viewing platform. The whole thing nearly went wrong. The florist arrived at the platform on time. But an unexpected power cut followed. So the young couple, who arrived a little later, had to climb the many stairs on foot. Because the girlfriend was wearing high-heeled shoes, it seems that the man had a major task on his hands to convince her. However, it worked out in the end!
You'll find our care tips for roses HERE.
Would you like to order roses through the MyBouquet magic vase? The shop is HERE.
Three chocolate croissants and the start of a love story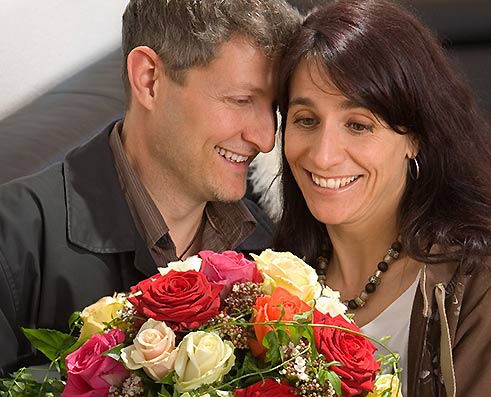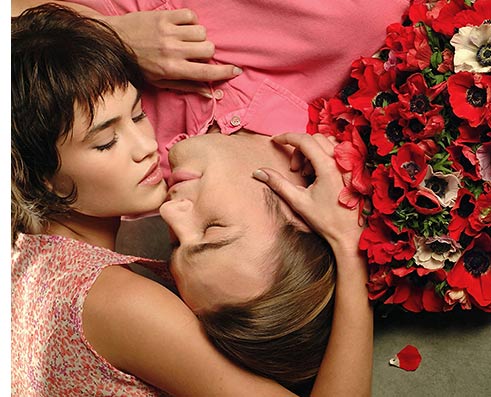 The Fleurop team often hears touching love stories from its contact with customers. For example, a man ordered red roses for a young woman who worked in a bakery. The message in the card read: "Every morning, I summon up the courage to talk to you. But when I'm in your presence, words suddenly desert me. The only thing I can say is: Three chocolate croissants, please, and a large bottle of Comella! I would really like to get to know you."
Unfortunately, we don't know how this story ended. But we can assume that this charm offensive touched someone else besides the Fleurop team.
"I love you" in a hundred languages HERE.
Roses instead of a frog in your throat! You'll find our suggestions HERE.
The Valentine and the old people's home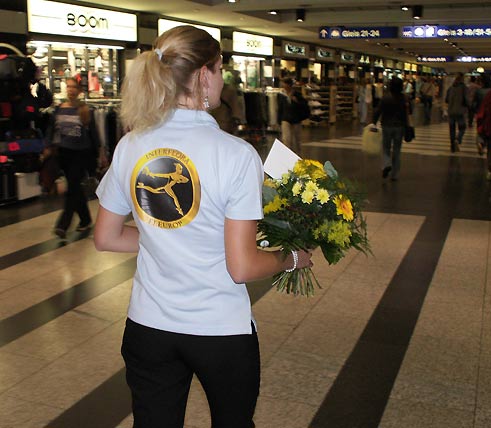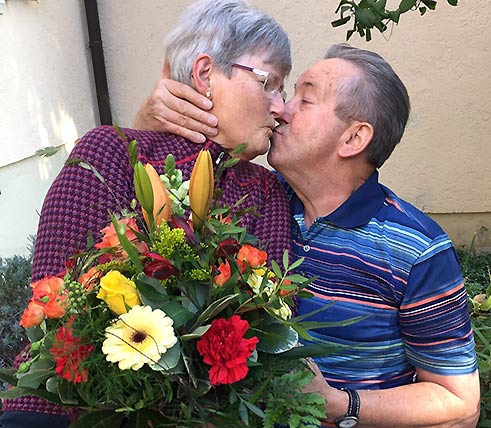 On request, flowers are delivered anonymously. And Fleurop keeps the secret even if the recipient of the flowers calls headquarters or the florist and wants to know the name of the giver. That happened once a few years ago, when a male customer had his Valentine's bouquet delivered to a resident of an old people's home with the simple message: "From your Valentine". Naturally, the lady in the home wanted to know who this Valentine was. So she called Fleurop. Unfortunately, the company couldn't help her as the recipient of flowers can only be told what the customer reveals in the message. However, the Fleurop employee saw how important it was to this lady to discover the name, so she asked: "Have you really got no idea who the bunch of roses could have come from?" "Well, possibly," said the gift's recipient. "But it's not easy, because it could have been any one of several gentlemen!"
You'll find Valentine's Day flowers for young and old HERE.
Valentine's Day greetings from the other side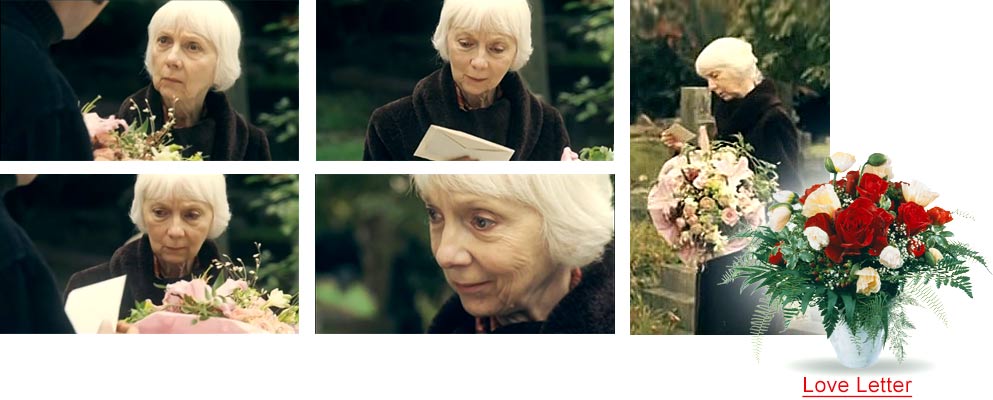 A Fleurop partner in the USA gave us a copy of a story that a customer had written and sent to a magazine. It goes like this: My husband John and I were married for 46 years. Every Valentine's Day, he sent me flowers and a card with the message: "My love for you keeps on growing". Four children, 46 bouquets and a life filled with love were his legacy to me when he died two years ago. On the first Valentine's Day that I spent on my own, I was surprised to receive a wonderful bouquet ... from John. I was so sad when I called the florist to tell them that there had been a misunderstanding. But the florist replied: "It isn't an error. Before your husband died, he paid for bouquets for a lot more years and made us promise to send you a bouquet every year on Valentine's Day". I had a lump in my throat as I hung up and read the card that came with the bouquet. It said: "My love for you is eternal."
You'll find the video of our award-winning TV spot "Wedding Day" HERE.
You'll find many tokens of eternal love for Valentine's Day HERE.