Spring decorations to make yourself

Looking for a delicate, charming or colourful spring mood indoors and out? Find out how to make stunning decorations with flowers, plants and accessories. Our experts tell tales out of school and provide ideas and tips. Have fun with do-it-yourself!
For outdoors: spring flowers in a boot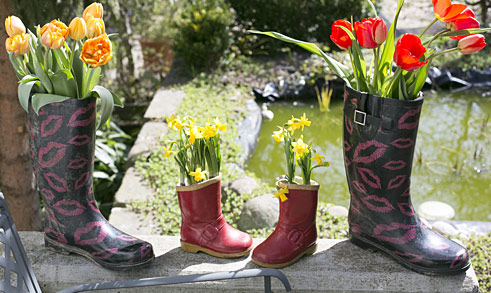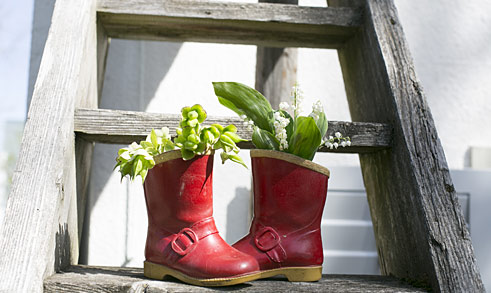 Ever thought of combining flowers and boots? This delightful eye-catcher will definitely create a splash and attract attention – and it's easy to make!
Material:
Gardening boots or wellington boots; waterproof container to fit inside the boots (e.g. plastic bottle with the top part cut off); either water and freshness retainer or soil; cut flowers or planted spring flowers.
Method:
1. If you simply plan on putting your flowers in water, add water and freshness retainer to the waterproof container and then place your arrangement inside boot.
2. If you prefer to plant your flowers, fill your container two-thirds full with soil, plant your flowers and then place inside boot.

Tip:
Several boots (in pairs, if possible) look better than one on its own. If you plant your flowers, try to make sure the container comes nearly up to the top of the boot. Leave room for watering (approx. 3 cm) and remove container from the boot when watering or changing the water.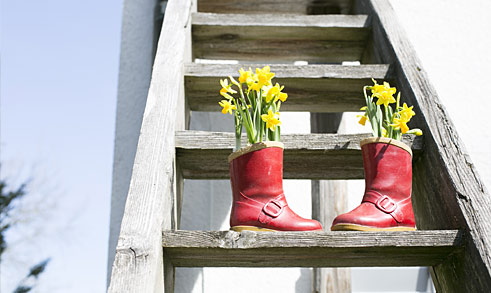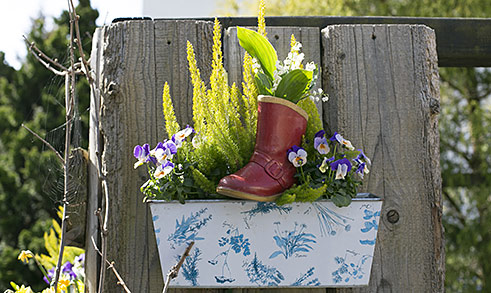 Read our tips on looking after cut flowers HERE.

Click HERE for our plant care tips.

Enjoy the small and large arrangements put together by our professionals just for you. Click HERE.
For your balcony or terrace: charming touches with muscari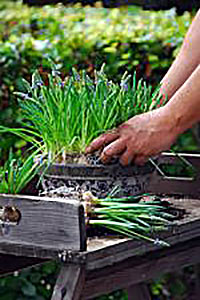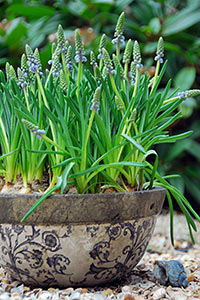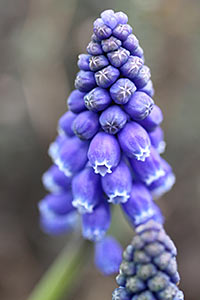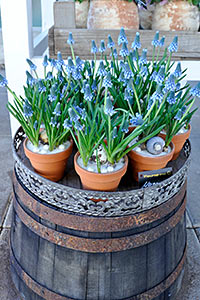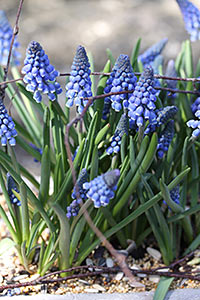 If you're not familiar with grape hyacinths - muscari - you really should make their acquaintance. They're delicate and special with a beautiful scent. Our decorative tip for them is extremely simple and can be done in a flash.
Material:
A pretty bowl, some grape hyacinths (muscari), soil and sand; possibly some snail shells or birdseed.

Method:
Plant muscari in the container and scatter some sand on top of the soil. If you would like to do a little more, cover the sand with snail shells … or birdseed. The latter will attract lots of songbirds. And they are not just a pretty sight, but will chirp and trill their way right into your heart.

Tip:
Muscari planted without a bowl also do well. In niches or on narrow windowsills, two pots will be enough, on tables or other larger surfaces small and large groupings are effective.

For ideas from our professionals that you're sure to love click HERE


Serviette rings of birch twigs and muscari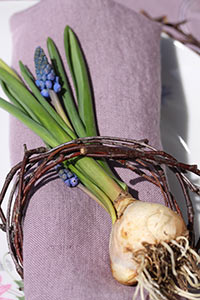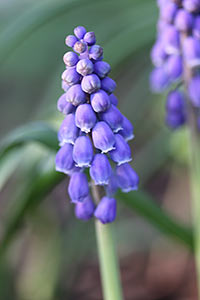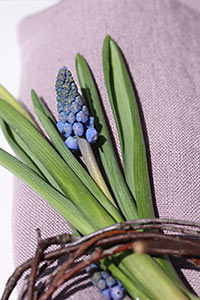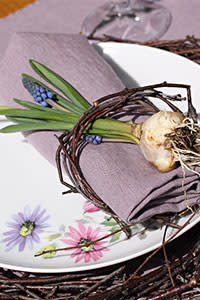 A leisurely Sunday breakfast or Easter brunch coming up? Special napkin rings could cause a sensation.
Material:

A few birch twigs, a little decorative wire, some grape hyacinths.
Method:

Twist fine, soft birch twigs into a small wreath and tie them with a piece of wire. Next, place a festive napkin in the ring, together with a blooming muscari that still has the bulb attached. Of course, the bulb has to be rinsed a little and patted dry first.
Tip:

After the meal the flowers can naturally be re-planted.
Surprises created by our professionals for your guests can be found HERE.
Table decoration – colourful as a spring meadow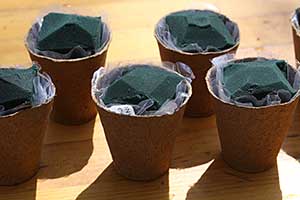 What is your vision of the spring? Colourful, cheerful and filled with flowers? In that case, we can make a suggestion for a bright table decoration.

Material:
Seedling pots made of peat which look like ordinary little plantpots; plastic; floral sponge; spring flowers; satin ribbon.

Method:
Line the seedling pots with plastic, fill them with floral sponge soaked in water and insert spring blossoms. Then tie a ribbon to match the flowers around the pots, and spring has arrived!

Tip:
Only use one colour and variety of flower for each pot. And line the seedling pots really well with the plastic. They are made of peat, and peat absorbs water and then disintegrates. By the way, these cute little "flower vases" can be used individually or of course in groups: in a mixed arrangement on a tray or in a row.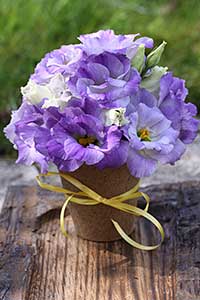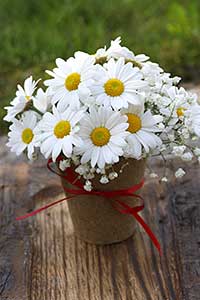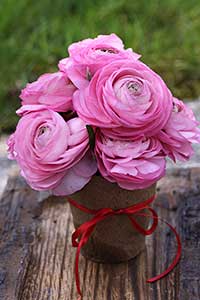 Spring blossoms skilfully staged can also be found HERE.
As a table decoration: romantic spring flowers on a nest of straw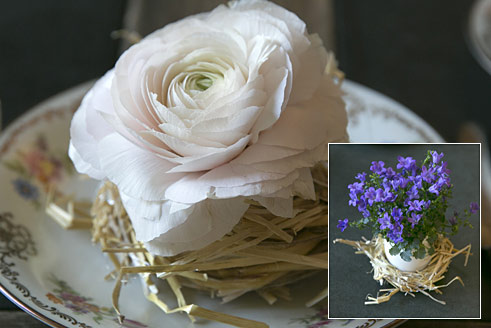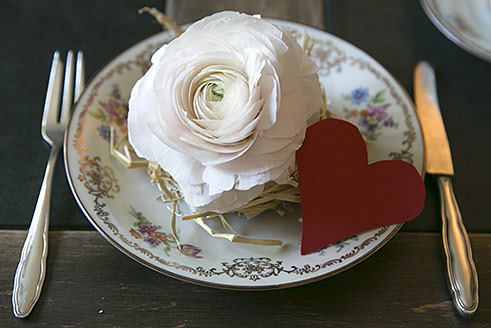 With a litle bit of straw and some spring flowers, we show you how to conjure up table decorations to make the Easter bunny go green with envy!
Material:
straw; decorative wire; floral sponge; plastic sheet; rubber band; spring flowers, rose or small plant; or possibly a blown egg (instead of floral sponge, plastic and rubber band).
Method:
1. Shape the straw into a loose nest and hold together with some decorative wire.
2. Soak a small piece of floral sponge in water.
3. Wrap the floral sponge in plastic and fasten at the top with the rubber band.
4. Push a flower through the opening in the rubber band and into the moist floral sponge.
5. Place your arrangement on top of the straw nest and tweak the straw to hide the plastic.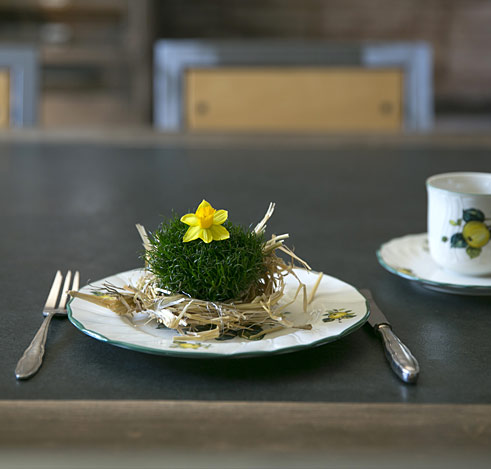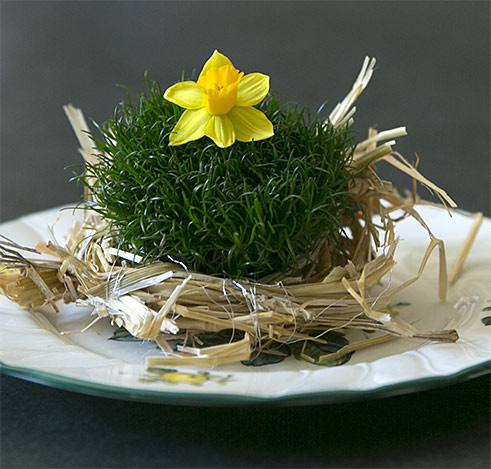 Tip:
It's easier to use an egg vase: blow out the contents of an egg and carefully remove the top third of the shell. Put a little water and a small spring plant (or flower) in the egg and place your egg vase on top of the straw nest.

For romantic arrangements from our professionals click HERE.
A ring of flower bulbs: charming all-rounders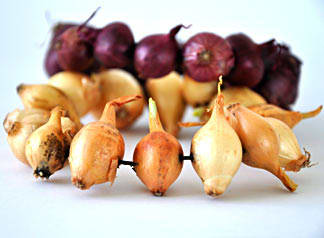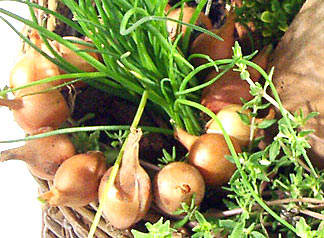 Flower bulbs are just great! They not only grow into your favourite spring flowers, they can also be used to make attractive decorations. We show you how:
Material:

Dry bulbs; 1 mm thick wire; possibly some silk ribbon or cord.
Method:

Thread the bulbs by pushing the wire through the centre of each bulb.


Once you have threaded enough bulbs to form a ring, cut the wire and join the two ends.


Tweak the ring until it forms a circle. All done!




Tip:

You can use this pretty ring of bulbs to add a special touch to just about anything! Hang it over a window handle or the key in the lock of your cupboard. Attach some silk ribbon or cord and hang it on the wall - on its own or with others. You can also arrange it in mini flower beds – or decorate your plants with it. These rings of bulbs also look great placed in alcoves and on top of dressers.
Enjoy the small and large arrangements put together by our professionals just for you. Click HERE.
Hyacinth wreath: a fragrant decoration for your table

Perhaps you have some hyacinths in your garden? If not, pop out and buy some. You can use hyacinth blossoms to make pretty wreaths for so many things, and they also make beautifuly elegant table decorations.
Material:

hyacinths; decorative wire; possibly some nylon thread.
Method:
Carefully cut the blooms off the hyacinths using a small pair of scissors.


Thread them onto a fine length of wire.


When you've threaded enough flowers to make a wreath, cut the wire and join the two ends.


You now have the basis for lots of different decorations.


Tip:

This elegant, fragrant decoration looks great anywhere. Use it to decorate plants, for example, or hang it from a handle on a chest of drawers. Also makes an eye-catching centrepiece on your table, or use to decorate plates, with or without name label, or as a napkin ring. Can also be used elsewhere, e.g. hung from window handles in the kitchen or perhaps even on your front door. Use a length of nylon cord to hang up your arrangement.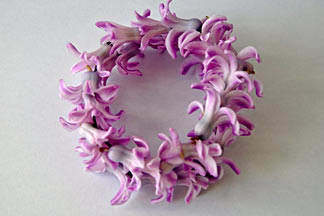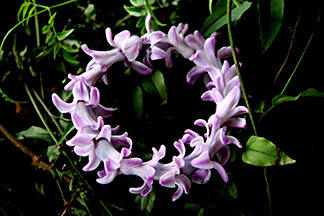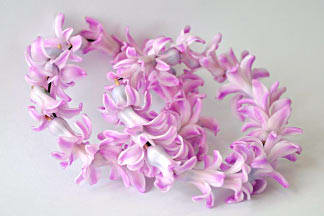 From our professionals, guaranteed to put you in the mood for spring: click HERE.
Glass vases with decorative filling – spring dreams in a vase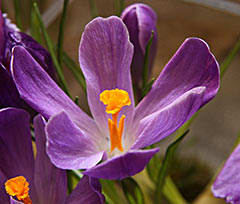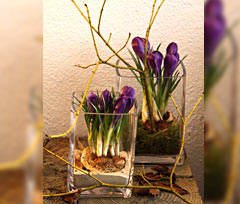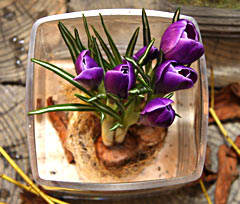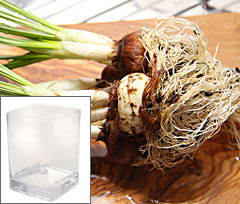 Take … several pretty glass vases and fill them with spring flowers and/or twigs. Done – spring has arrived! Well, just a tad more complicated perhaps, but not much! Here are two variations.
Material:
Variation 1 with flower bulbs: glass vase; a little sand or soil; forced spring flowers such as hyacinths, tulips, etc.; moss; a few twigs of bilberry, cornus, birch etc.
Variation 2 with cut flowers: glass vase; twigs (e. g. cornus or bilberry); spring flowers such as tulips, narcissi, etc.


Method:

Variation 1 with flower bulbs:
Wash flower bulbs under running water.


Add a little sand or soil to the glass vase and plant the forced bulbs.


Cover the surface with e. g. a little moss or add a few twigs. Done!
Variation 2 with cut flowers:
Place a good handful of twigs in a glass vase with water.


Arrange your favourite spring flowers inbetween the twigs. Birch branches and French tulips look particularly effective in tall glass vases.


Party mood: hanging storm lanterns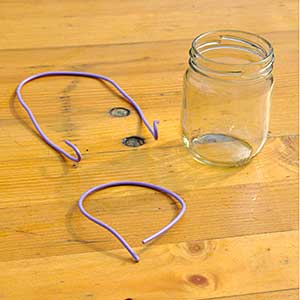 Candles are a perennial favourite. Whether for a romantic tête-à-tête, an hour of solitude under a starry sky or a meeting with friends in the garden, candlelight is now an essential part of getting in the mood, all the year round. Why not surprise your guests with unconventional storm lanterns to hang up?

Material:
Glass yoghurt pots; 1.8mm-thick wire; tea lights; spring flowers.

Method:
Cut a piece of wire for the handle, make it into a U-shape and bend both ends outwards to form hooks. Then cut a second piece of wire slightly longer than the circumference of the yoghurt pot. Attach the handle to it and finally fix it round the neck of the yoghurt pot with pliers. Now all you need is the tea light, then you can hang the storm lantern on an especially cheeky-looking twig or graceful branch.


Tip:
You can also fill one or two yoghurt pots with water and flowers.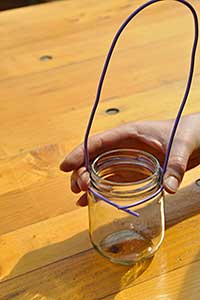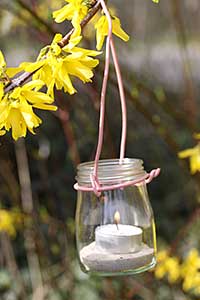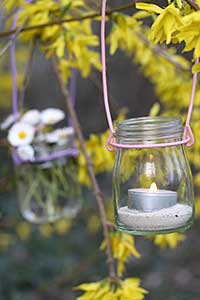 Find more party ideas HERE.


Porcelain tableware with nostalgic filling: spring with a difference!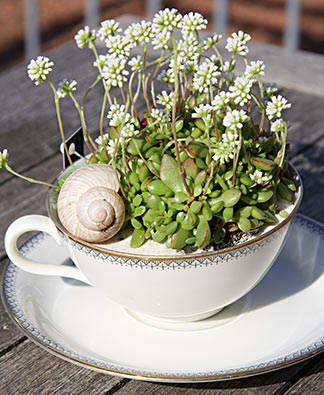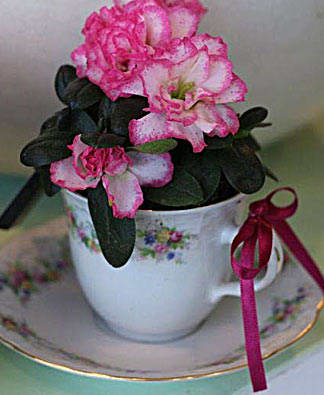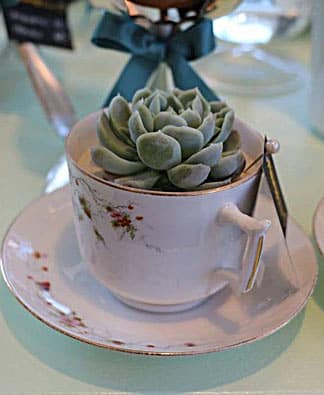 Romantic teacups, delicate plates decorated with butterflies – and gold edging, too, perhaps! Revive your good old porcelain tableware with spring flowers.

Material:
romantic porcelain tableware, e.g. cups, milk jugs, sugar bowl etc.; soil, moss; spring flowers which look good with the porcelain, e. g. tête-à-tête, mini tulips, houseleeks or mini azaleas, etc.

Method:
Simply place your spring flowers (already planted in mini pots) inside the porcelain or use a little soil and plant direct, then cover with moss.


Decorate your mini creations with snail shells or – around Easter – with quail eggs.


Tip:

If you plan on arranging several cups, sugar bowls etc. in a row, use the same plants in all your tableware – it will look more elegant. If you don't have any old porcelain at home or you're worried about using precious heirlooms, take a look around your local flea market.
See our selection of nostalgic spring flowers HERE.