Planning a garden party


People love to give garden parties in the warm season. You'll get lots of ideas here, and find out what you should consider if you want your party to be a success. Click on the headlines that interest you. And then ... happy reading!
First steps towards a garden party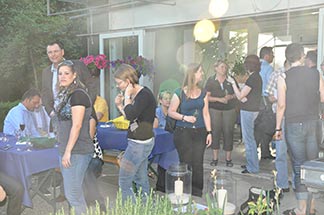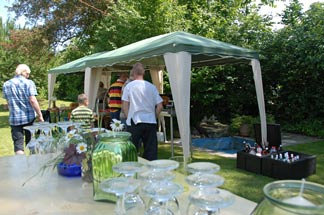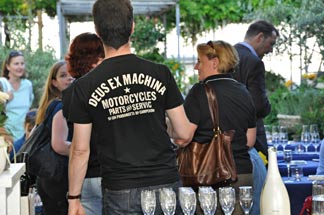 Summertime is party time. And the best place to party is outdoors. In the garden or on the patio. We reveal the first steps towards a successful garden party.
Decide on the timing. Weekends are normally good. Whether you give a brunch, an afternoon get-together or an evening party is a matter of personal taste.

Estimate how many guests you can accommodate. For large parties, it may make sense to hire a small marquee with tables and chairs.

Draw up the guest list. Think particularly about which people are compatible (important).

Consider what mood suits your guests. Should it be rustic and cosy? An elegant party? Or an exuberant, undemanding get-together?

The right theme may set your imagination soaring. Communicate the theme in the invitations, and also bear it in mind when choosing food and decorations.

Set your budget. Make a note of overruns during the planning phase so that you have control of the financial side. A good way of cushioning the cost impact is a party where everyone brings some food. You'll find more information on this subject under "Type of party and planning food".

Make a to-do list that you can add to and work through systematically in your later thinking.

You'll find our decorative tips for garden parties HERE.

Invited to a party? You'll find our tips on gifts HERE.
Thinking about the invitation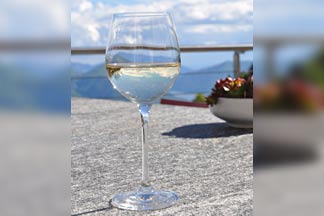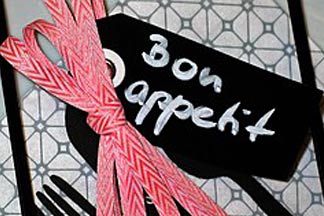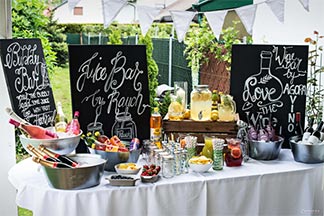 Now it's time to invite the guests. The ideal thing is for the invitations to be received as early as possible. Some tips:
More and more people are vegetarians or vegans. To allow you to plan the food better, it's a good idea to ask about that in the invitation.

Give the most precise directions possible and enclose them with the invitation.

Think about where your guests can park their cars and give details in your invitation. If you're expecting a lot of cars, the neighbours should be informed.

For parties that will go on late into the night, you can make guests aware of places to stay overnight. These may be nearby hotels and guest houses, or even the possibility of putting up a tent in your garden after the party.

It's important to send written invitations, by e-mail, SMS or post. Always mention a date by which they should accept or decline the invitation. That makes planning easier.

You'll find our decorative tips for garden parties HERE.

You'll find ideas for cheerful floral decoration from our professionals HERE.
Planning the type of party and food
You could hold a classic barbecue, a cold buffet with lots of tasty snacks or a party where the guests bring their own food or part of it (bring-and-share party).

Bring-and-share parties are a good way to cushion the cost impact. Agree on exactly who will do what. For example, you can ask guests to bring salads or a dessert, or the aperitif, or bread. You can also request them to bring the barbecue meat that they would like to eat (that way, everyone gets something they like). The important thing is for you to know exactly who is bringing what.

In the case of a barbecue, ask yourself how you want to handle it. Will everybody do their own? And if so: is there enough room at the barbecue? If not, you may be able to borrow more barbecues from friends or neighbours.

If you don't want your guests to cook themselves, you need a "barbecue boss". It might be you, otherwise ask among the guests or hire a professional (e.g. the butcher where you buy the meat or a caterer).

If the number of guests is large enough, you may want to spit-roast a suckling pig. Order it early and put it on the barbecue in good time.

Here are some rules of thumb to make it easier for you to plan the quantities of food. For starters and salads, allow 250 g per person, for meat and fish 150-200 g and for desserts 100-200 g. Don't forget vegetarians - offer vegetable kebabs or veggie-burgers, for example

You'll find our decorative tips for garden parties HERE.

Received an invitation? You'll find our tips on gifts for gourmets HERE.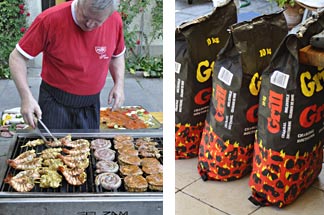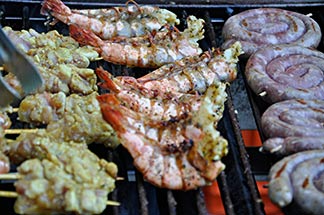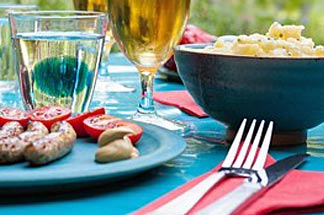 With or without alcohol? Planning the drinks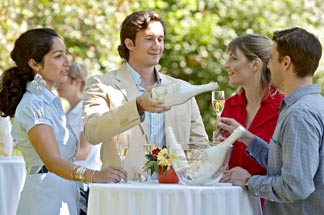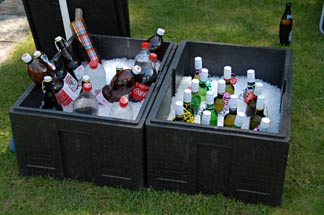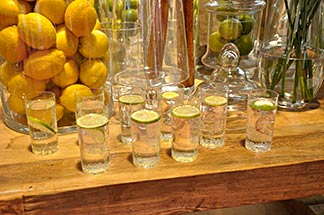 When it's very hot, the drinks are sometimes almost more important than the food. Tips:
Make sure you have enough drinks in stock for every taste.

Think about how much alcohol you want to plan for. It's more likely to go to people's heads in the heat. Options with less or absolutely no alcohol are, for example, beer (possibly on tap), shandy, white wine spritzer, fruity summer punches, home-made iced tea or non-alcoholic cocktails.
Make sure that you're also able to chill them, because people are literally gasping for refreshment in the warm season.

If your own fridge doesn't have enough capacity, you may be able to supplement it with cool-bags or cool-boxes and/or hire an additional fridge (e.g. from the drinks merchant).

Plan the party so that everyone can help themselves to drinks. However, this means that you have to tell your guests right at the beginning of the party which drinks are where.

You'll find our decorative tips for garden parties HERE.

Funky floral decorations from our professionals? The shop is HERE.

Weather, infrastructure and equipment
Check that you have enough seats (chairs, benches, etc.) and tables, or if you have to hire some extra ones. Ask yourself if you need benches with backs or chairs with upholstery and cushions because there will be older guests present. Tip: low lounge furniture is not all that suitable for eating meals.

What about crockery, cutlery and glasses? Do you have enough in hand? Will you have to (or would you like to) hire some or all of them? Or do you prefer practical disposable versions? They don't necessarily have to be plastic or cardboard. There are also attractive alternatives made of sugar cane or palm leaves that are biodegradable and even look smart. In addition, you can often hire glasses from the drinks merchant.

Sweltering heat can be a party-killer. Consider whether there's enough shade in the garden for all your guests (trees, sun umbrellas, covered veranda, etc.) or plan for extra sun umbrella(s) and awnings (possibly borrow or hire).

Also think about bad weather options, such as waterproof awnings, a gazebo or covered patio and estimate whether there will be room for all the guests if the worst comes to the worst.

If you want to have music at your party, it may now be the time to look for a suitable musician or check your music system and CDs.

Not least, think about whether you have enough sanitary facilities. Otherwise, just hire portable toilets (ToiToi or Dixi).

You'll find our decorative tips for garden parties HERE.

Sunny eye-catchers from our professionals? The shop is HERE.
Important details that show your professional touch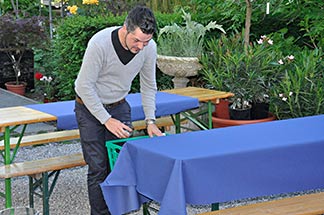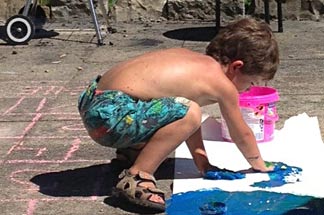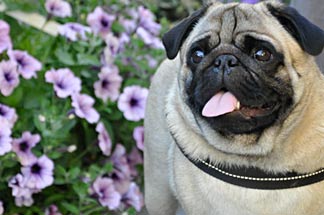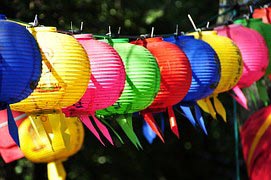 Parties are about making everybody feel good, having the neighbours still talking to you (smile) and the hosts not being overwhelmed by the preparations and clear-up. Tips:
If children are in the group, you should consider whether the garden pond, swimming pool or garden torches could be a danger. It could also make sense to think about a separate children's table or outdoor games such as petanque so that the kids don't get bored.

Dogs would be pleased to have a bowl of water and some shade, where they could possibly be tied up. If you're expecting several dogs, you may want to contact the owners to make sure that the dogs will get along with each other.

You can't see to everything on your own during the party. Ask family members or friends to help you at least with the preparations immediately before the party and with clearing up.

Because the garden party will mean a lot of cars, noise and smoke from the barbecue, and conversation deep into the night, you should inform the neighbours. You could invite them to come along, or accompany the information with a nice flower from the garden (or from professional hands) so that the tolerance level will be even higher.
Flowers for tolerant neighbours? You'll find our suggestions HERE.
Basics of garden party decorations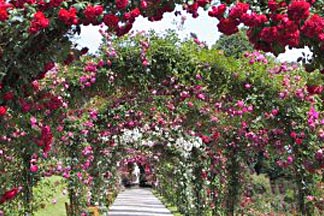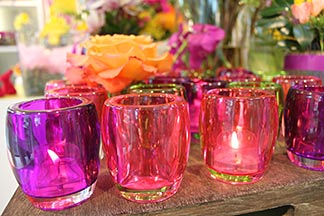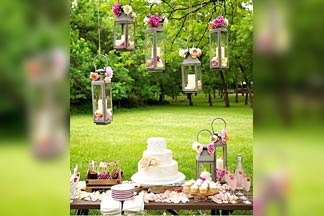 The garden itself provides a wonderful ambience with its flowers and plants. That said, you should never fail to add sweet, amusing and romantic decorations. Some tips:
Think about what you would like to decorate. Suitable objects are: the entrance, fruit trees, the garden pond/swimming pool, spring/well, rose arches, garden fences, stairways, banisters, windowsills and tables.

Make sure that the garden decorations are waterproof and sturdy enough to survive the party. Garden parties are always a little more boisterous than other occasions.

Important: because it can be breezy outdoors, decorative items should be secured so that they can't blow away.

A welcome and very decorative gesture are warming blankets or a fire (e.g. outdoor chiminea, fire basket)

If the party is to be held in the evening, atmospheric lighting is indispensable. Garden torches create a holiday mood. But atmospheric LED lamps for flower beds or Chinese lanterns and garlands of lights in the apple tree are wonderful opportunities to dress up the garden. Not least, storm lanterns and lanterns on windowsills and stairs are of course fantastic and an absolute must.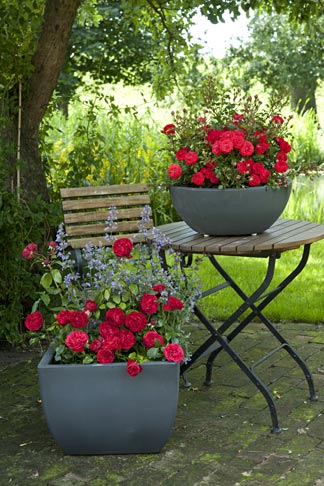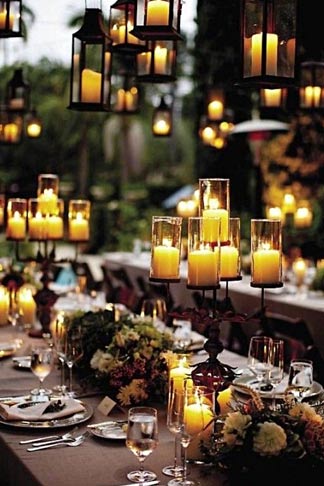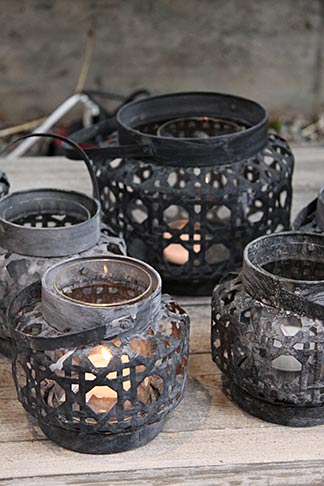 You'll find our decorative tips for garden parties HERE.

Funky floral decorations from our professionals? The shop is HERE.
Placing garden decorations correctly
Tips:
In general: choose decorations that are fairly tall, e.g. column planters, LED and solar lights, screens, sculptures, sun-dials or fire baskets. Objects at floor or ground level are barely visible.

Trees: Chinese lanterns, garlands of lights and lanterns can be attached to thick boughs. Depending on the theme, bird-houses, garlands made from driftwood, coloured ribbons or wind-chimes can also be effective among the branches.

Ponds, swimming pool, well/spring: these can become enhanced features with solar globe lights. Floating candles and blossoms, such as artificial lotus blossoms, have an atmospheric effect. If you don't have a pond or a well, you can use a trick. Take a half-barrel or tin bath, fill it with water and float water plants or 1-2 artificial lotus blossoms and candles in it. That's very effective.

Garden furniture: sometimes – depending on the theme – colourful cushions and throws make the otherwise "serious" outdoor furniture appear in a completely new light.

Tables, windowsills, garden walls: these are perfect places for rows of storm lanterns, large and small flower-filled vases and pot plants.

You'll find our decorative tips for garden parties HERE.

Something unexpected from our professionals? The shop is HERE.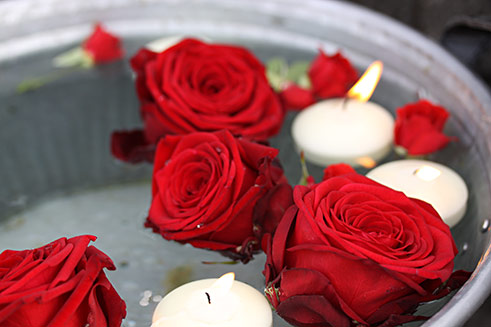 Important: no fragmentation, create eye-catchers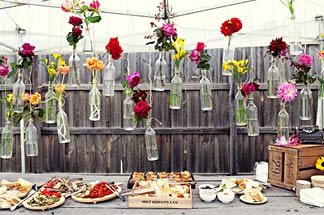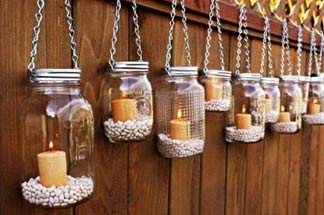 There are two "commandments" when decorating for a garden party:

1. Always keep the party theme in mind.
2. Don't create a fragmented effect.
So whether it's country & western, desert magic or Bollywood: make the garden party theme more tangible for your guests through your decorations.

Create eye-catchers. One wonderfully decorated tree is ten times more effective than five. You can compare it to pictures: if one is to come into its own, it has to have space to create an effect.

Have the courage to quite deliberately leave empty space. Too much decoration looks busy and confused.

Groups and rows are more effective than a lot of individual decorative elements, repetitions are definitely allowed. You can interpret a decorative idea in a slightly different way, then it doesn't come over as boring (see our decorative tips with the sunflowers).

And constantly create the unexpected, e.g. little frogs or candles in the toilet, or cheerful and colourful signposts on the way there.

In other words, be striking and aware of effects. That'll work!

You'll find our decorative tips for garden parties HERE.

Trendy eye-catchers from our professionals? The shop is HERE.