Max Havelaar


More and more consumers are choosing roses with the Max Havelaar Fairtrade label. Here you can find out more about Max Havelaar, its collaboration with Fleurop and the fact that you can use the code to trace Fairtrade roses back to the farm.
Fleurop and Max Havelaar - together for more fairness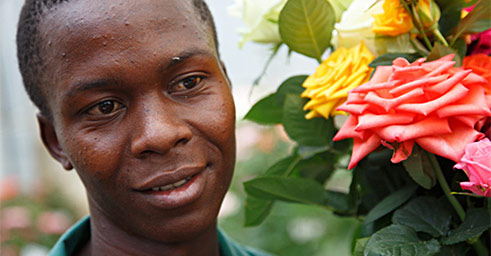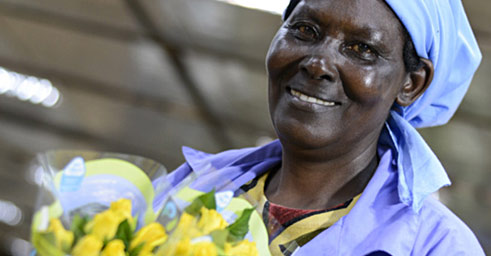 For orders delivered in Switzerland, Fleurop offers Max Havelaar-certified Fairtrade roses of first-class florist quality. Max Havelaar is a non-profit organisation that was founded in Switzerland in 1992 to promote fair trade with products from developing countries. Fair trade supports small farmers and workers to escape poverty by their own efforts and to strengthen their position in world trade. The primary focus is to ensure a decent working environment for small farmers and plantation workers and to improve living conditions for families and whole villages. So that people can recognise such products, the Max Havelaar Foundation labels fair trade products with its Fairtrade label. That also applies to roses. Fleurop has been a Max Havelaar partner since October 2003 and offers roses with the Max Havelaar Fairtrade label through its Swiss partner stores and via
www.fleurop.ch
.
With Max Havelaar and Fleurop - a contribution to a better world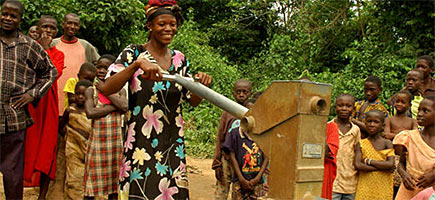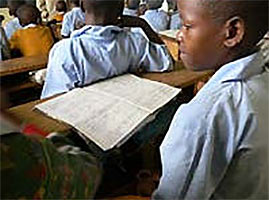 Schools, fresh water or a visit to the doctor: we take such things for granted, but not everyone can. Particularly those who live in developing countries. That's why the Max Havelaar Fairtrade label means a binding fair trade premium for community projects. It is the only label to do so. The premium goes directly from every purchase to a separate premium account for the flower farms. The workers decide what they will do with this money at democratically conducted meetings. They may want to build fresh water wells or schools, or subsidise visits to the doctor. Let's take the Inversiones Ponte Tresa flower farm in Cayambe, Ecuador as an example: its workers receive health insurance and medical care for themselves and their families.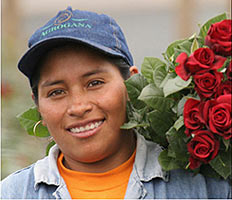 The premium has also funded a large number of scholarships for workers and their children. In addition, an instructor was hired to give computer courses. Not least, micro-credits of up to 500 US dollars out of the fair trade premium are on offer. These are mostly used for building homes, new business start-ups and to support businesses run by women.
Max Havelaar sets the environmental bar high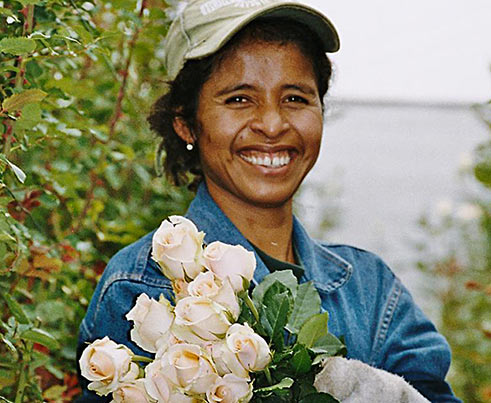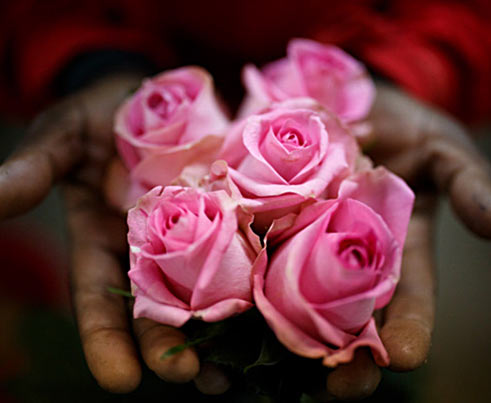 If you buy roses with the Max Havelaar Fairtrade label, you have more than just a guarantee that compliance with the stringent environmental and groundwater regulations is being independently monitored.Max Havelaar makes additional high demands on the plantations it certifies in terms of the handling and use of fertilisers and sprays. The international Fairtrade standards for roses also include environmental criteria and prohibit the use of the most toxic pesticides. Compliance with these rules is checked regularly. External environmental experts confirm that Fairtrade-certified plantations are environmental leaders and have been proved to use less spray.
Apropos water: water consumption has been reduced by almost half over the last 10 years by switching to drip irrigation and landless farming. The surplus irrigation water is often purified in a closed cycle and used several times over. The sewage, on the other hand, is purified in natural treatment systems.
Who is Max Havelaar?
Max Havelaar is the principal character in the novel "Max Havelaar or the Coffee Auctions of the Dutch Trading Company", published in 1860. The novel is about colonial civil servant Max Havelaar, who uncovers serious misconduct by his superior in Java and ultimately challenges the entire colonial system. The key point of the whole story, however, is that Multatuli - the name of the Dutch author - was a pseudonym of a man called Eduard Douwes Dekker, who actually describes his own career as a colonial civil servant in the figure of Max Havelaar. Towards the end of the book, the author pens a passionate condemnation of an autocratic, incompetent colonial administration that cannot in actual fact be controlled from the home country. The book and its main protagonist are extremely popular in the Netherlands to this day. Therefore, when organisations providing quality labels for fair trade were set up in a number of countries, the founders of this one considered Max Havelaar to be the obvious choice of name.
At Fleurop, you can trace every Fairtrade rose back to the plantation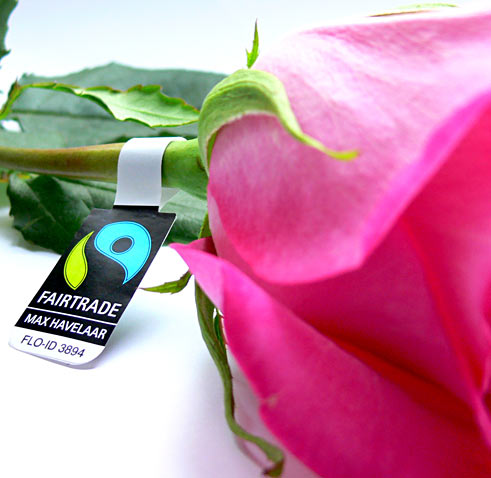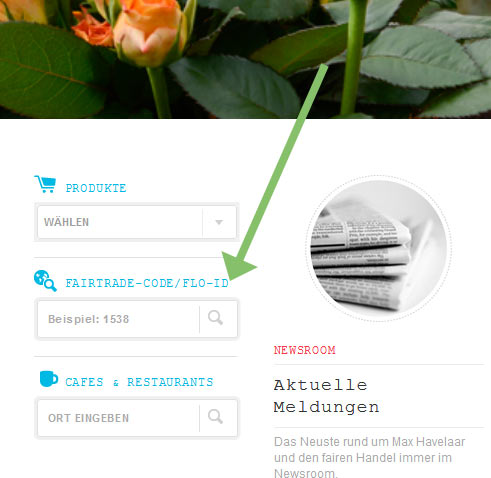 At Fleurop, every rose with the Max Havelaar Fairtrade label has a code which can be used to trace each one right back to the plantation that produced it. This makes the market transparent and promotes awareness that these and many other roses come from developing countries and that we have a certain responsibility for the people who grow the flowers.
In short: if you buy a Fairtrade rose from us and enter its code at www.maxhavelaar.ch in the "Fairtrade-Code / FLO-ID" search field on the homepage, you will find details of what the originating rose farm does with the fairtrade premium.
Fairtrade roses from developing countries also make environmental sense

According to a study by "my climate", it makes absolute sense to buy roses from Ecuador or Kenya, despite the fact that they have to be transported to Switzerland by air. European hothouses have to be heated and need artificial light, which, according to "myclimate", uses up to five times more energy than importing a rose by air. And in actual fact, the proximity of South America and Kenya to the Equator makes for perfect conditions: hothouses need neither heat nor light.
More on this subject at Max Havelaar