Fleurop flowers & Gottlieber Hüppen


Here you can find out more about irresistible Gottlieber Hüppen rolled wafers, the first attempts with their "hollow forebears", a clever woman's brilliant idea and the handcraft that is still the secret of production of Hüppen today. Gottlieber's social and environmental awareness also receives a mention.
Fleurop flowers & Gottlieber Hüppen: Exclusive Special Edition


Lovingly made Gottlieber Hüppen are baked the world over in accordance with a traditional recipe, rolled piece by piece like a cigar leaf and individually finished off with fillings made from the finest Swiss chocolate and melt-in-the-mouth gourmet creams. The selection of three flavours in ONE pack is exclusively available from Fleurop. The pack contains eight individually wrapped premium wafer rolls in the flavours Irish Cream, Cappuccino and Amaretto. Surprises don't come any more charming: because flowers have always won hearts, and their combination with 120 g of Gottlieber Premium Hüppen, Special Edition for Fleurop, is irresistible.

Fleurop flowers & Gottlieber Hüppen? You'll find the shop HERE.
From wafer to From wafer to "Hohlhüppe": the start of a success story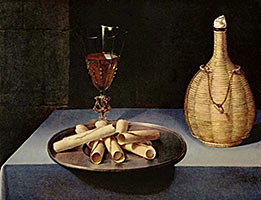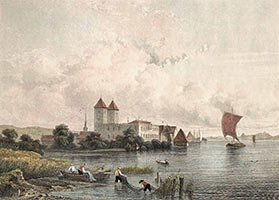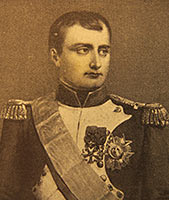 The Hüppen's predecessors were flat wafers, made from flour and water and the exclusive preserve of haute cuisine. Then someone had the idea of enriching the batter with honey and rolling the warm wafer. This was how the wafer rolls – Hüppen – were invented.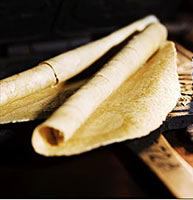 However, they were no great delicacy back then. It is even thought that the word "Hüppe" is derived from the Middle German word "hippig", which more or less means "lean" or "poor". So the Hüppen of those days were a poor dish, which probably appeared in Switzerland in the 14th century. However, sugar was introduced in the 16th century and Hüppen were transformed. They then became a festive product, were soon known as such all over Switzerland, and were served up at table with whipped cream. Also in Gottlieben on Lake Constance, which made a name for itself in Hüppen production early on. Ex-Queen Hortense Bonaparte enjoyed the "gaufrettes" from Gottlieben when she lived at Schloss Arenenberg from 1817 to 1837. Another enthusiastic fan of this specialty was her famous son Louis Napoleon, who later became Emperor of France. But we are talking here "only" about hollow rolled wafers – Hohlhüppen. It was not until a long time later that someone had the phenomenal idea of filling them with chocolate.

Fleurop flowers & Gottlieber Hüppen? You'll find the shop HERE.
Success arrives: a clever woman develops filled Gottlieber Hüppen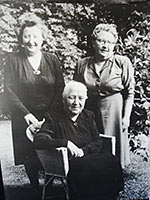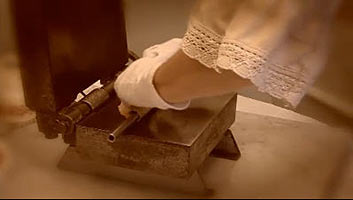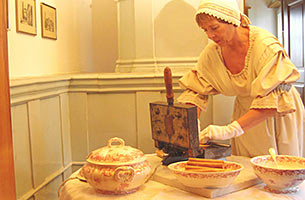 The story of the filled Hüppen began with Elisabeth Wegeli of Gottlieben, who was initiated into the art of baking the rolled wafers by her neighbour in 1928. When her neighbour had to give up her trade, Elisabeth Wegeli bought the wafer iron from her. Together with her daughters, she began to produce Hüppen. To make the wafers, she poured the sweet, thin mix of flour, egg yolk and sugar in a very thin layer onto the iron, closed it and left the batter to cook for a good minute at around 160 degrees Celsius. She then rolled the wafers with a thin iron rod while they were still warm … and the Hüppen from the new Hüppen bakery were done. By the way, back then most Hüppen bakers kept one fingernail long so that they could remove the hot wafers from the iron.
People loved the taste of Elisabeth Wegeli's Hüppen even when they were hollow. The idea of filling the rolled wafers did not arise for another ten years. In 1938, the shrewd businesswoman developed a praline filling for the empty Hüppen.

Fleurop flowers & Gottlieber Hüppen? You'll find the shop HERE.
How Gottlieber Hüppen are made today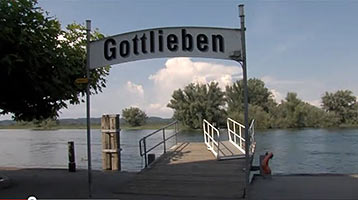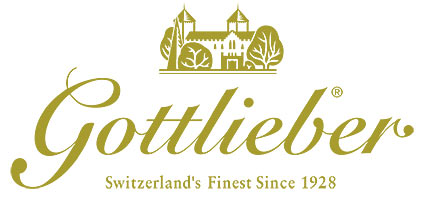 At Gottlieber Spezialitäten AG, a lot is done by machines.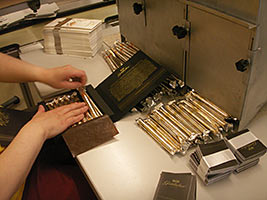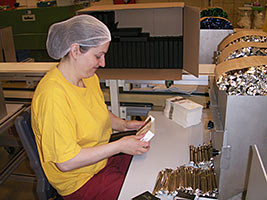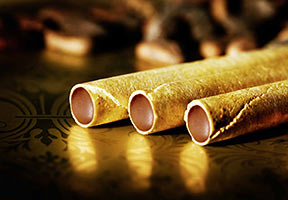 But the process has remained the same. The 0.7mm thin wafers are still lovingly and individually baked just like before, using machines and methods that have been developed in-house. And they're still rolled individually like the leaf of a high-quality Havana cigar. The Gottlieber Hüppen are then finished off piece by piece with melt-in-the-mouth gourmet fillings and packed by hand. Only the finest Swiss chocolate and melt-in-the-mouth gourmet creams are used for the fillings, which are all created in Gottlieben. And the company is proud that some of them have even won gold awards.

Today, the business employs between 40 and 55 people, who work with enormous passion to make more than 200 tonnes of filling and around 40 tonnes of mini wafer rolls every year.

Fleurop flowers & Gottlieber Hüppen? You'll find the shop HERE.
Ingredients and an ambitious corporate philosophy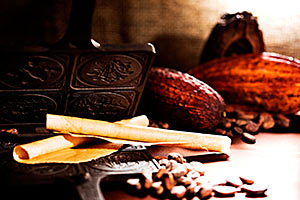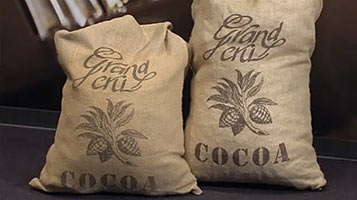 Gottlieber Hüppen contain no preservatives, no hydrogenated fats, no chemical additives and flavour enhancers and no genetically modified organisms. Materials containing artificially produced flavourings are also avoided. On top of that, the company is committed to treating our Earth's limited resources responsibly and therefore places high priority on purchasing within its home region and avoiding unnecessary transport miles. Not least, Gottlieber Spezialitäten AG chooses high-quality, certified and organically grown ingredients and fair trade raw materials and uses only organic, free-range eggs. The cocoa is UTZ certified, which stands for sustainable cultivation and better future prospects for the farmers, their families and our planet. Thanks to FAIR POWER, Gottlieber Spezialitäten AG also procures the electricity for its company from renewable sources in Switzerland.

Fleurop flowers & Gottlieber Hüppen? You'll find the shop HERE.
Want even more information? Watch the web film about Gottlieber Hüppen