Fragrant spring bloomers

Look forward to interesting facts about the cheerful and colorful hyacinths, the subtle freesias and the charming jasmine: their history, their inimitable fine fragrance and their place in the perfume industry. Click on the headlines that interest you - and enjoy reading.
From a mistress to a "hyacinth mania"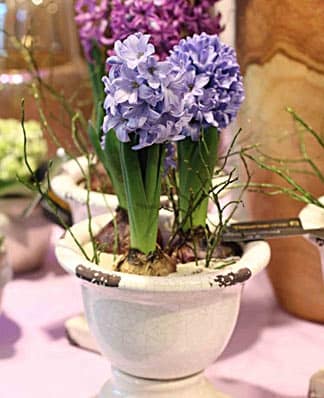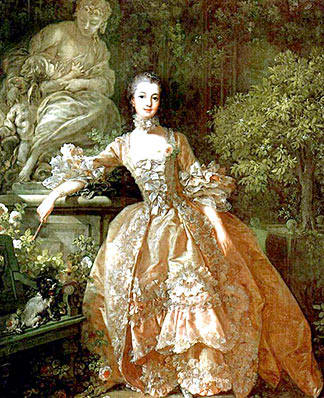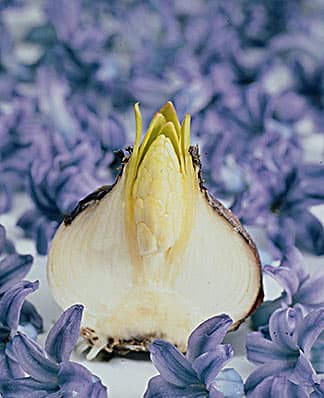 Now they are back, the cheerful hyacinths with their blue, red, white or pastel flowers. They originally came from the Middle East and celebrated their debut as garden plants in Turkey. There they became so popular that in 1593 50,000 white and 50,000 blue hyacinths were used for a single garden in Edirne. They arrived in Europe via Constantinople and experienced a real boom because of their exotic strangeness. Especially the Dutch fell in love with them and bred new colours. In the 18th century they became the most popular flower of the time. Their biggest "fan" was Madame de Pompadour, the mistress of the French king Louis XV. She decided that the gardens of Versailles should be embellished with Dutch hyacinths. Of course, the French hautevolee did not want to remain outside, and a true "hyacinth mania" developed, reminiscent of the ruinous "tulip mania" of the 17th century. Fortunately, the prices for a hyacinth bulb were high. But one was reasonable enough not to pay whole houses for a single bulb, as had been the case with the tulip about a hundred years earlier. But in 1737 this speculative bubble burst as well. Today hyacinths are still popular, but no longer overpriced.
Hyacinths and other spring bloomers can be found HERE.
Of renewal bulbs and hyacinth glasses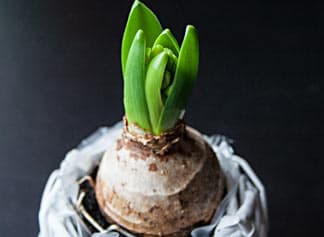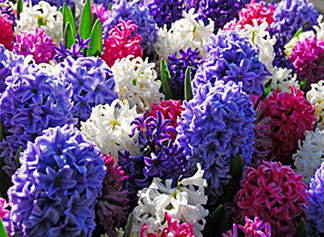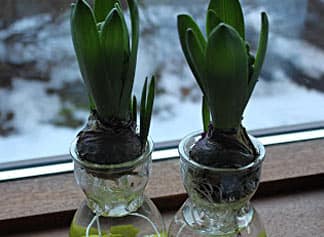 Whether as cut flowers, pot plants or garden plants: Hyacinths are enchanting. They are particularly interesting as plants because they multiply through bulb formation. This is achieved by developing one or two small renewal bulbs in the leaf axils of the bulb scales. When the "mother bulb" dies after the plant has blossomed, the subsidiary bulbs survive and, after a certain period of time, they also sprout the renewal bulbs again. So if you plant a hyacinth in the garden and wait long enough, after a few years you may see a real small hyacinth garden.
Apropos hyacinth bulbs: You can also grow them in a glass. There are special hyacinth jars on the market that are relatively bulbous at the bottom and narrow a few centimeters below the upper edge. The onion is placed above this narrowing, while the lower part is filled with water (Attention: water must not touch the onion). Place the container in a dark location with temperatures around 10 degrees C and wait until roots and the first shoots form after about 8 weeks. Then place the glass in a warmer room and enjoy the thriving of this exciting bulb flower. Attention: Change the water weekly and use lukewarm water for this.
Lifestyle flower greetings in the vase are also available from the pro, namely HERE.