Easter decorations to make yourself

Have you always wanted to know how to transform beautiful spring blooms, plants, egg shells, eggs and other materials into delightful, colourful, original and humorous Easter decorations? Our professionals will pass on tips, tricks and ideas during a fun DIY session.
Spring bloomers and hay: an unbeatable team for Easter!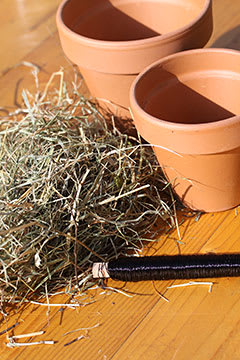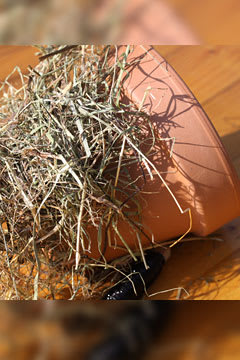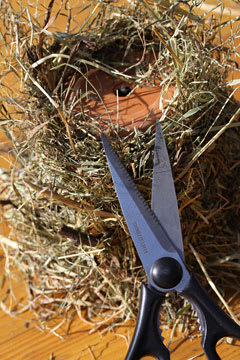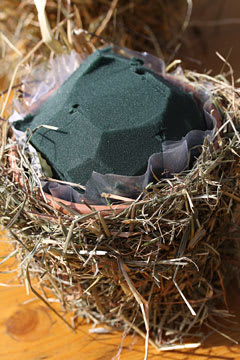 The spring flowers are beautiful. They are even more so when they smile at us from a hay-coated pot.
Material:
a pot; hay; wire; plastic sheet; Oasis florist foam; spring flowers; ribbon.
Method:
Start by covering the pot with hay until it becomes invisible and use wire from time to time to secure it.


To make the pot stand upright, cut the hay that protrudes from the lower edge with scissors.


Now place a plastic sheet inside the pot, let it exceed 1 cm and cut off what is too much.


Fill it with Oasis florist foam soaked in water beforehand.


Spread a little hay on the florist foam and decorate it with your favourite flowers.
Tip:
Wrap a beautiful ribbon around the container and you will already have an attractive Easter decoration that will make people envious.
Buy ready-made spring decorations?
To see the showcase, click HERE.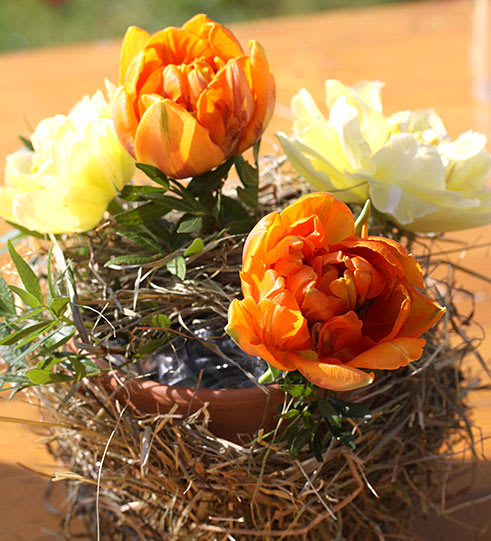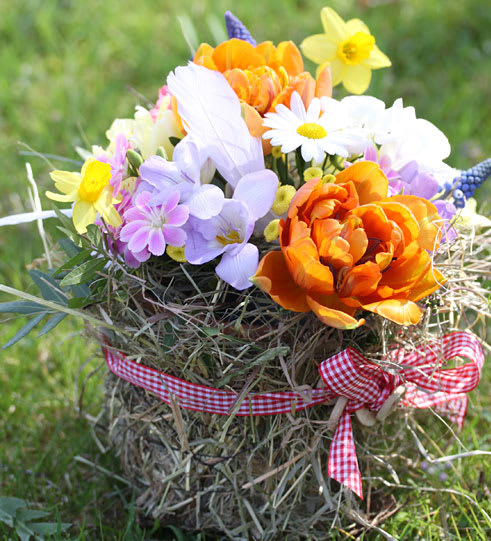 A nest full of spring-like vases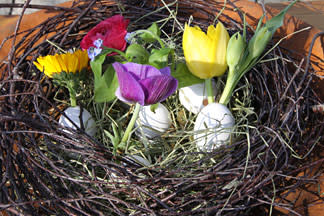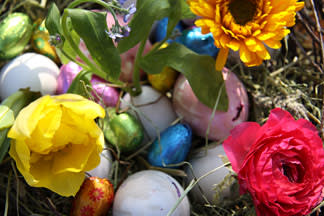 If you want to create something pretty, you don't necessarily need many things.
Material:
a few branches (e.g., hedge clematis, horn, birch, willow, hazelnut); hay; small feathers from the hobby store; empty eggs; a few spring flowers.
Procedure to follow:
Draw first a small bird's nest with the branches.


Stuff it with hay and a few small feathers.


Detach a piece of the empty eggs to create an opening large enough for the eggs to serve as small vases. Of course, you must fill the small hole you created by emptying the egg with glue.


Now pour some water into it and place larger or smaller flowers in these vases, depending on whether they are eggs from chickens, ducks or ostriches.
Tip:
Daisies, lily of the valley, narcissus or tulips will look great. Make sure that the hay stabilizes the eggs so that they do not tip over.
More Easter ideas can be found HERE.
Mobile decoration: springlike and colourful tray of Easter bunnies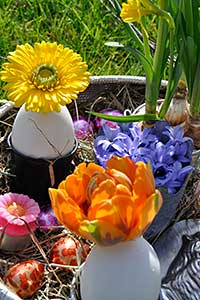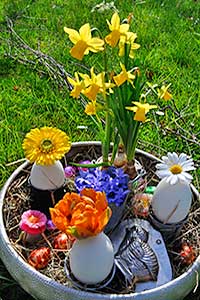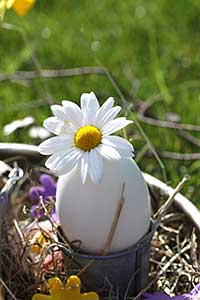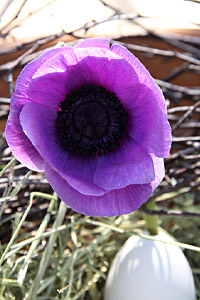 Flower-filled eggs on a tray will add a cheeky touch to your Easter feeling.
Material:

Tray; fresh or blown eggs; spring flowers; empty tea light holders; some straw; Easter and springlike accessories.
Method:
Blow the content out of the eggs so as to leave only one hole (or buy them ready-blown); fill them with water and place brightly-coloured spring flowers in them. Place the eggs in empty tea light holders so that they don't tip over. Then take a tray, line it with straw and decorate it with your eggs and their springlike fillings and other accessories to create the right mood. Suggestions are little plants, chocolate eggs, cloth bunnies or a wide variety of other things.
Tipp:
Because this decoration can be filled over and over again with fresh flowers it will keep for a long time, and cause a sensation on many different occasions.
For more exciting suggestions look HERE.
Soloists: stylish eggs filled with flowers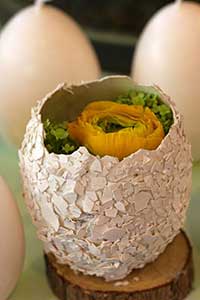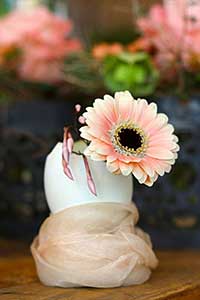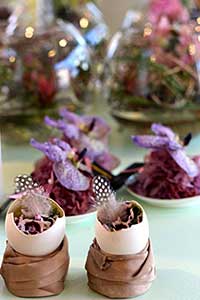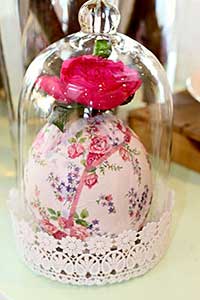 Soloists are artists with such virtuoso talent that they are allowed to perform on their own. Well, these eggs are so special that they, too, can perform as soloists.
Material:

Blown goose or hen's eggs; floral sponge; moss; spring blossoms; empty tea light holders; possibly spring or Easter accessories.
Method:

Take the blown goose or hen's eggs and carefully break off the top third. Then fill them with floral sponge soaked in water and cover it with moss. After that you can give free rein to your imagination. For example, you could fill the egg with viburnum and a yellow ranunculus, which would be reminiscent of an egg yolk. Mini gerbera (germini) with jasmine tendrils are also attractive. However, a sweet william with a feather or another attractive flower, e.g. an orchid, could also look good. By the way, the eggs will be more stable if you glue them to a flat piece of wood or place them in empty tea light holders. If you use the latter, you can disguise the holders by wrapping organza or velvet ribbon around them. Attach the start of the ribbon to the holder with a little hot glue, wind it a few times around and then attach the other end to the ribbon with a little glue.

Tip:

The effect will be attractive and very special if you stick pieces of shell from another egg to the outside of the decorated egg.
You will find more ideas from the Easter bunny's studio HERE.
Versatile decorations: spring in a basket or a bowl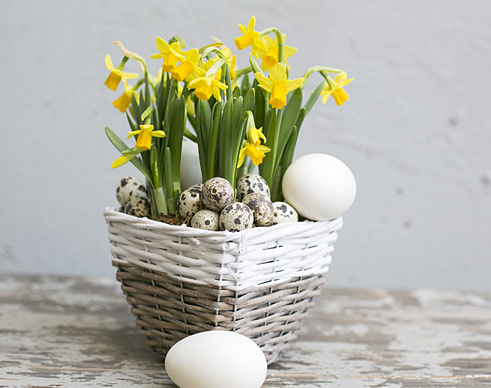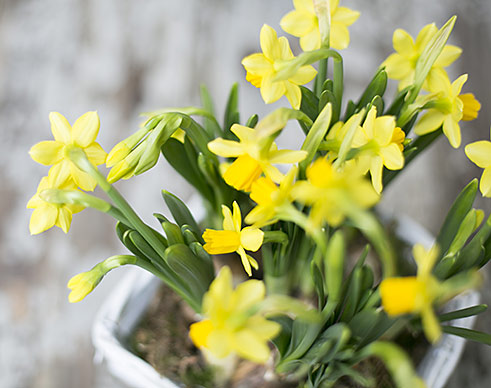 Baskets filled with spring flowers create a wonderful atmosphere – especially if they are spiced up with Easter accessories.
Material:
Basket with spring flowers (e.g. tête-à-tête daffodils); blown quail eggs.
Method:
Decorate the flower basket with a generous number of quail eggs.
Tips:
This simple but striking creation works well as a stand-alone or grouped. And, for an even more impressive result, use identical baskets and flowers for your grouped arrangement.
Alternative:
If you prefer a less flamboyant yet stylish result, plant spring flowers in a single bowl and cover the soil with moss or blown eggs. For a glamorous effect, wrap a couple of the eggs in gold foil.
Look HERE for more beautifully decorated baskets.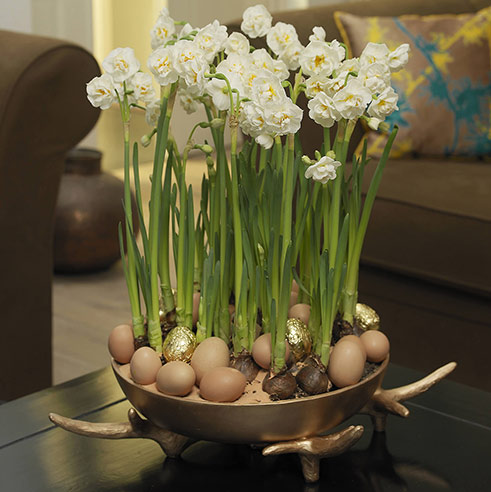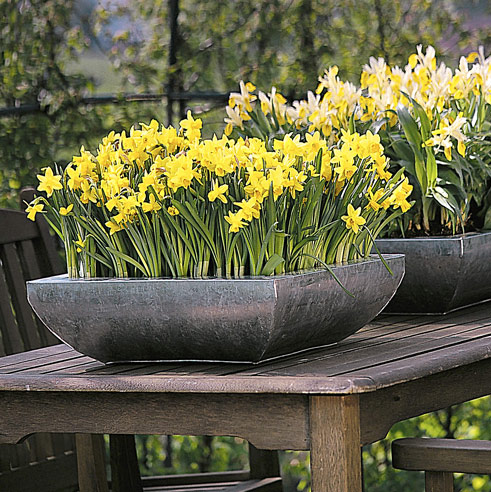 For the table or eat-in kitchen: still life in an egg carton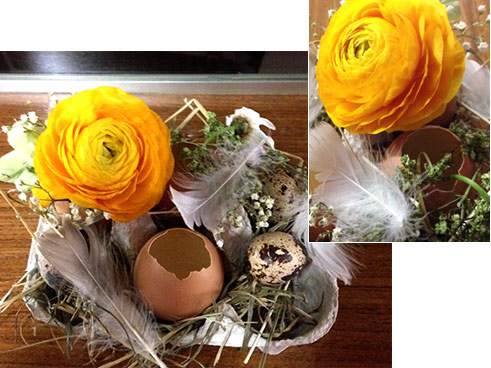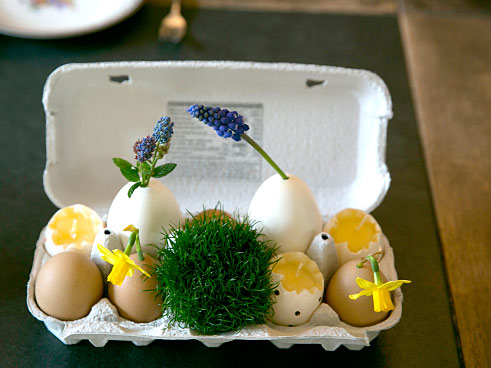 An egg carton, a few feathers, blown eggs, some hay, a flower and a touch of abracadabra – that's all you need to create a still life that radiates artistic flair!
Material:
Egg carton; hay; Easter accessories such as blown eggs (hen or quail or both) and feathers; spring flowers (e.g. buttercups).
Method:
1. Fill the egg carton with a bit of hay.
2. The hen's eggs are the largest decorative element, so position these first.
3. Use one of them as a flower vase: fill it with water and insert the spring flower.
4. Decorate with the remaining Easter accessories. A light-hearted, playful look works especially well.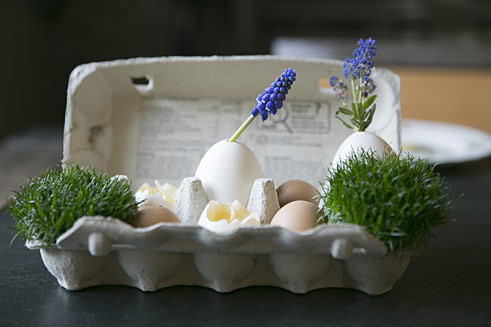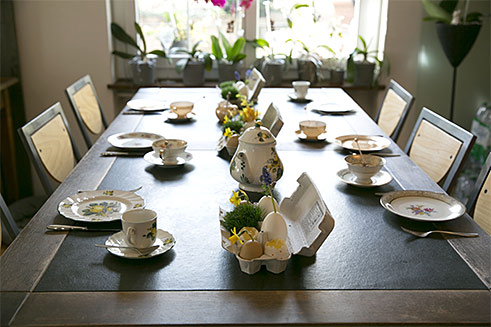 Tip:
If the branding on the egg carton looks out of place, or if you'd like to get your children involved, paint the carton.
This is a stylish (and mobile) Easter decoration that will look great almost anywhere – individually or in groups, on sideboards, window ledges, kitchen or dining tables.
Look HERE for more ideas from the Easter bunny's creative studio.
Captivating: tulips growing between Easter eggs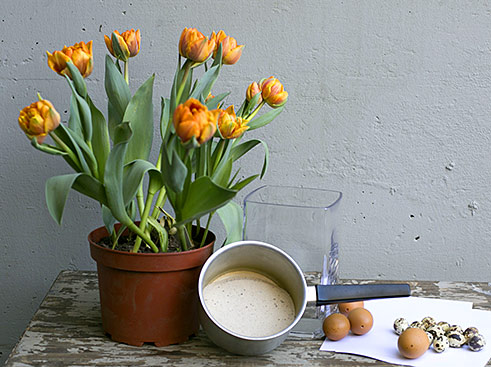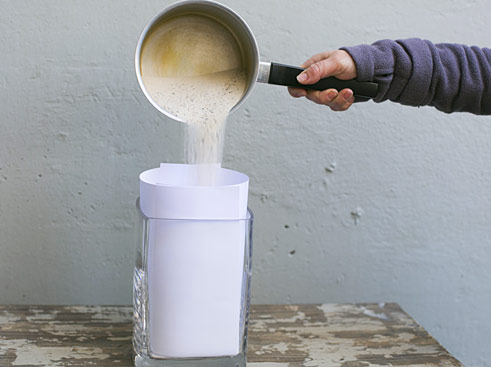 Who doesn't like to present a decoration that everyone wants to know how it was made? Here is a new decoration that is easy to make.
Material:
potted tulips; glass vase; sand for birds; paper; empty chicken and quail eggs.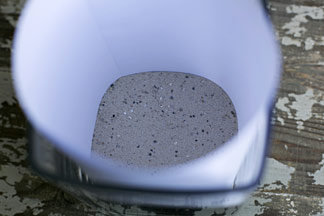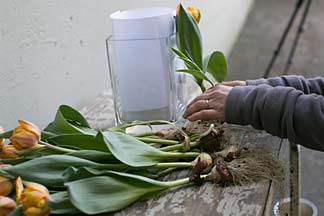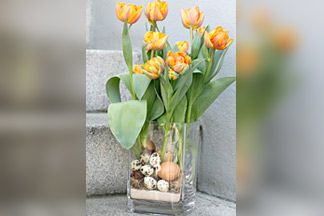 Method:
Free the tulip bulbs from their soil and rinse them under running water until there is no more soil at all.


Roll a sheet of paper into a tube and place it against the vase wall to protect it from dirt.


Pour a little sand (approx. 3 cm) into the tube.


Place the tulip bulbs on the sand in the vase and add about 1 cm of sand.


Carefully remove the paper from the vase.


Decorate - to your taste - the vase with chicken and quail eggs.


Carefully fill the vase with a little water until the lower sand layer is wet.


Check daily if the bottom layer of sand is wet, otherwise add a little water carefully..
Tip:
the glass vases offered by Fleurop are ideal for these decorations. You can buy them in any Fleurop flower shop or order them - with creative content - at www.fleurop.ch.

Other spring compositions can be ordered HERE.