Decor and home: Christmas fairy tales

Transform your home into a magical Christmas fairy tale: with bowls of light-flooded orchids, flowering Christmas baubles, suspended pine cones, festive flower creations and your very own personalised wreaths.
Light-filled decorations - beautifully presented
Do you want a decoration that is easy to carry and you can therefore always place just where you want it? Simple.

Materials:
Pretty tray; glass containers that can be used both as a lantern and a planter; three small-flowered orchids; tealights; battery-powered row of fairy lights.

Method:
Put the glass containers on the tray.


Place small-flowered orchids in three of them and tealights in the others.


Finally, surround the trays with a battery-powered row of fairy lights.
Tips:
Choose one or two colours only (e.g. ochre and honey toned containers, white orchids) so that the end result is not too hectic. This decoration comes into its own not only when you are serving festive drinks to an unexpected guest, but also for that late-night fireside chat with your loved one or simply to brighten up your dining table on a daily basis.

No time for DIY? Click HERE for the shop.
Baubles, water, flowers … and hey presto!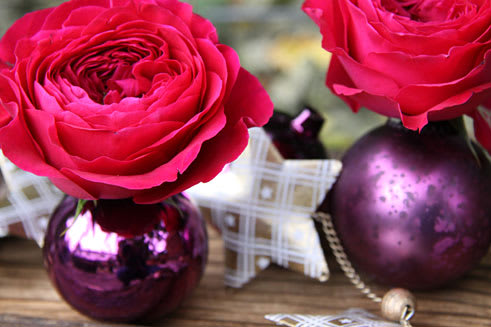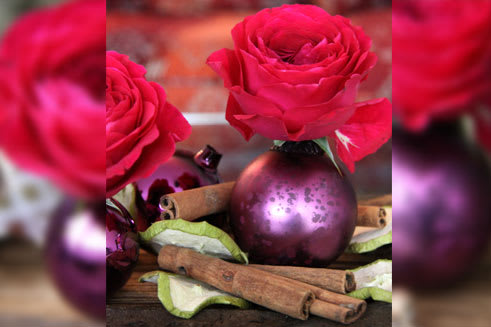 For people with busy lives who would still like to have amazing decorations, this is the perfect answer. It is delightfully simple to make and will adorn not only your table but any surface that requires imaginative decorations.

Materials:
Christmas baubles in your favourite colour of the moment; flowers that harmonise tonally with the baubles, e.g. roses, Christmas roses or orchid blossoms.

Method:
Carefully remove the tops with the hanging loops from the baubles.


Fill the baubles with water, adding the flowers.
Tips:

If you would like to make lines of decorations – e.g. for your table – you can stick a washer under the individual baubles so that they stand upright. You can get washers in metal, felt and plastic. They are usually used in taps in the average household and can be found in DIY stores.


If you would prefer to create a real eye-catcher, place your baubles on a tray with a little sand. The sand will ensure that the Christmas vases do not tip over.


These festively decorated baubles also look extremely effective in a glass vase. Simply fill the vase with a little sand and set the baubles filled with blossoms on top of this. Finish off with some wintery greenery such as conifer sprigs or fir.
The glass vases on sale at Fleurop are ideal for such decorations. They can be obtained from every Fleurop florist's shop or ordered online – as a lifestyle product – at www.fleurop.ch.

Order this enchanting decoration from the professionals: HERE.
Christmas decorations or winter wonderland?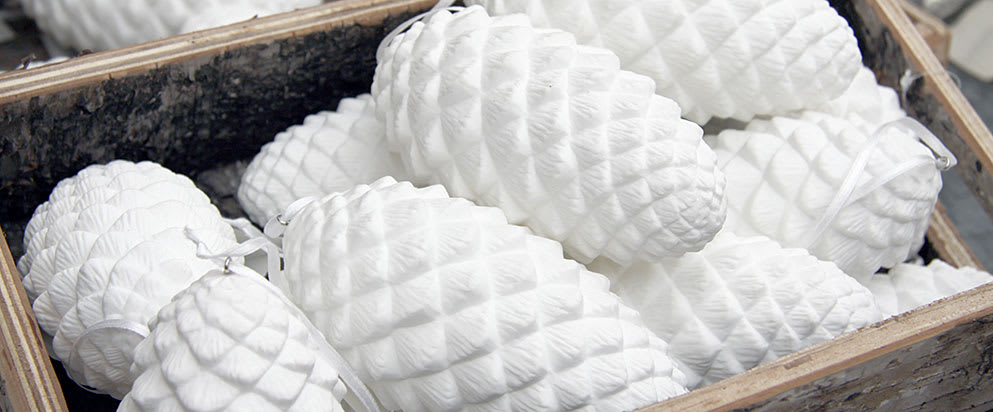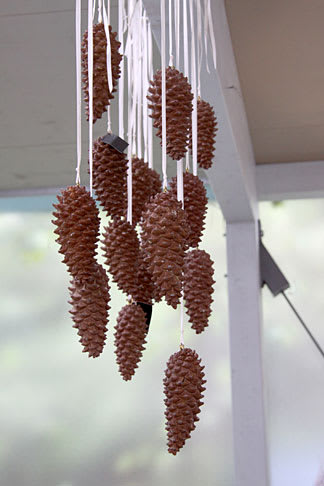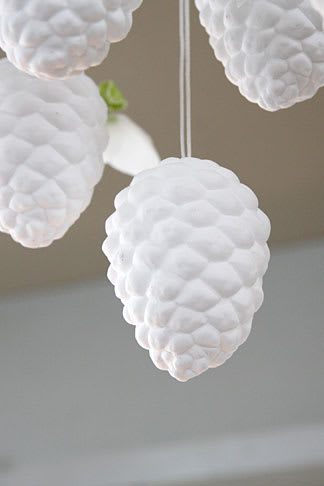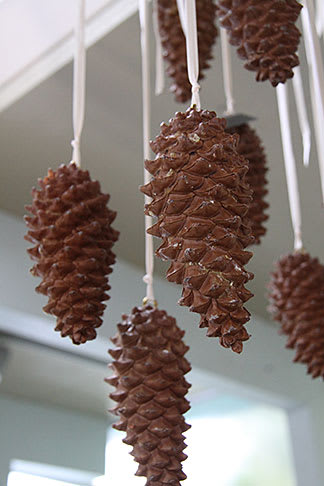 Pine cones are a symbol of immortality. As pine cones are also firmly linked with our Christmas trees, the conifers, they are also part of Advent symbolism. Are you also a fan of pine cones? If yes, then why not use them to decorate your windows, a secluded corner, your porch or even your balcony and terrace.

Materials:
Compact cones (e.g. pine) and/or softer cones (e.g. fir); ring bolts for compact cones; winding wire and golden wire for softer cones; satin ribbon.

Method:

In the case of compact cones, twist a ring bolt into the wide end of the cone and attach the ribbon.


For softer cones, you will need about 15 cm of winding wire. Take the cone with the tip facing downwards and wind the wire once round as high up as possible between the individual scales, then crosswise, finally lead both ends of the wire towards the broad end of the cone and wind them together using pliers to form a loop for the ribbon. Cover the ends of the wire with some decorative golden wire to complete the effect. Now thread a narrow satin ribbon through the wire loop and voilà, the cones are finished.
Tips:
This cones can be hung indoors or outside as a decorative group of wintery delights. You can collect them when you are out walking with your children in the woods or buy them in a specialist shop. You can leave them as nature intended, or add a Christmas sparkle with a touch of spray paint. Gold and silver are extremely Christmassy, white is reminiscent of a wood covered in snow.

You can also find wintery novelties in our shop. Click HERE.


Advent decorations presented in the most unusual containers
Advent containers and fillings? Sorted. But this one is particularly special as it is decorated with calluna. But it's really simple to make.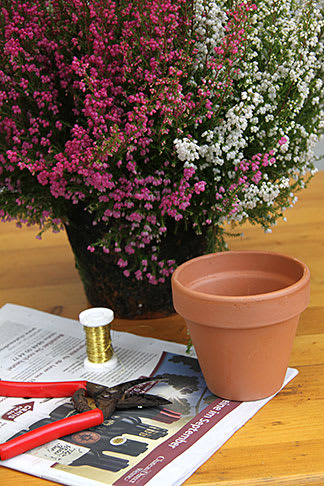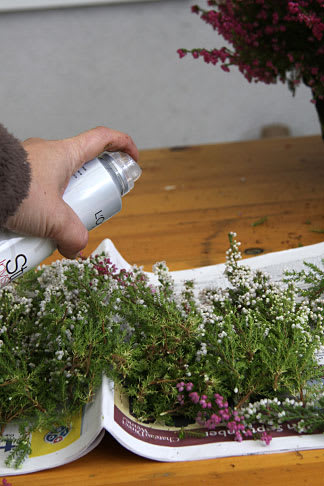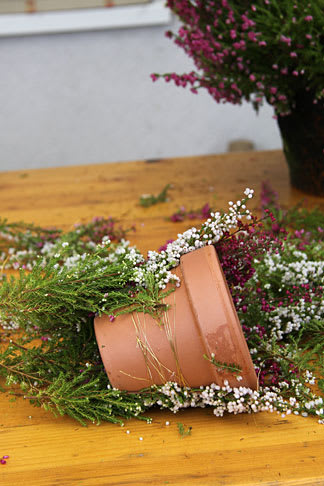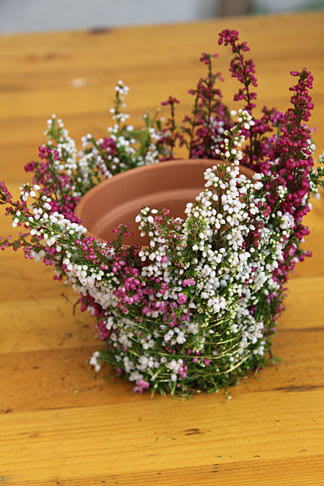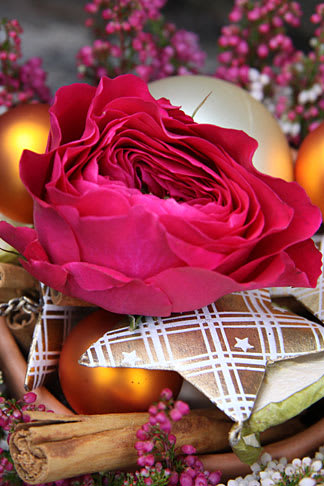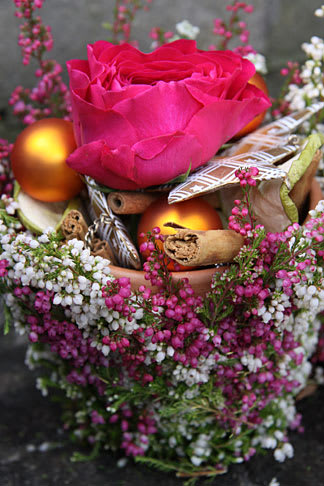 Materials:
Plant pot or planter; ready planted calluna or Erica; hairspray; gold wire; plastic; oasis; decoration material like cones, Christmas baubles, nuts, evergreen, fresh flowers.

Method:

Take the plant, cut the twigs as close to the earth as possible and place them on newspaper.


Now spray them with hairspray so that they do not shed their blossoms so heavily once they are dry.


Then fix the twigs onto the container using some gold wire.


Once the container is completely covered, trim the twigs at the bottom so that the container stands evenly and firmly.


Then line it with plastic and fill with oasis that you can then decorate according to your own design, perhaps with pine cones, Christmas baubles and nuts, or evergreen, baubles and flowers.
Tip:
If you soak the oasis in water, the evergreen and flowers will hold better.

You can also find creative decorations HERE.
Ambiance in a bowl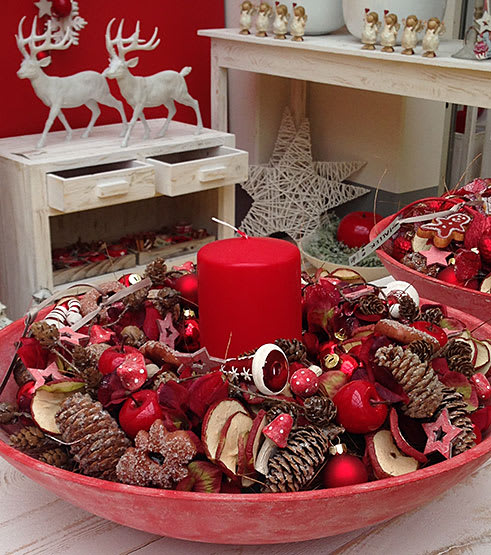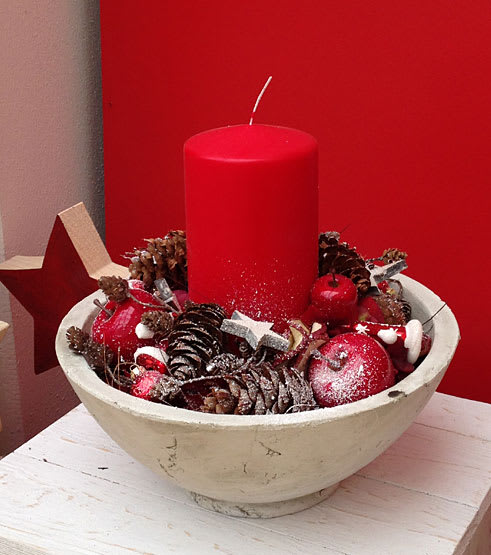 Surveys show that people love all kinds of different decorations in the Advent period. It is therefore all the more important that these can be created simply and easily. Different ideas: fill a pretty dish with a candle and some Christmassy accessories appropriate for the Advent period. It is important to make sure that the candle is standing properly upright and cannot fall over.

Materials:
Pretty dish; Blu Tack; pinholders; oasis; wire; sand; candle; Christmassy accessories such as baubles, apples, dried orange slices, nuts and Christmas cookies.

Method:
Stick one or more pinholders to the bottom of the dish with Blu Tack and fill the dish with oasis.


Heat one end a piece of wire that is approx.7 cm long over a flame and insert this into the base of the candle. Then stick the candle with the piece of wire sticking out of it into the oasis.


The candle should now be totally stable and you can cover the oasis with your favourite accessories.
Tips:
In the case of tall containers, you can simply place the candle onto the base of the container and stabilise it by sprinkling sand around the base of it. Then decorate the sand with the decorations of choice. Make sure that the colour of your dish matches the furniture and choose one main colour for the decoration that harmonises well with the dish. Of course, this doesn't apply if you have chosen to use cones and nuts in their natural colours.

You will find magical decorations to enchant your family and friends HERE.
Wreaths: bought … yet still unique
Wreaths are a must in Advent. They don't always have to be evergreen, nor do they necessarily always have to look like traditional Advent wreaths. After all, there are wreaths in acorns, beech nuts and pine cones. And you can buy these readymade. Take advantage of this so that all you have to do to create a unique wreath of your own from a very standard base is just a few tweaks here and there.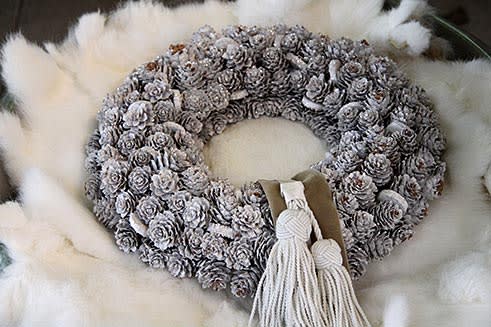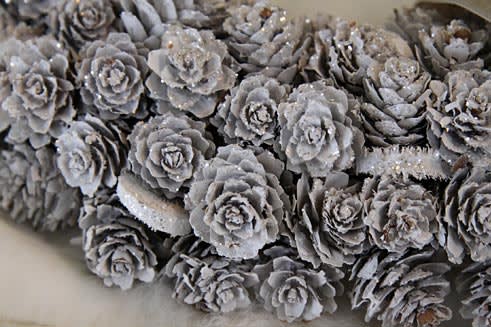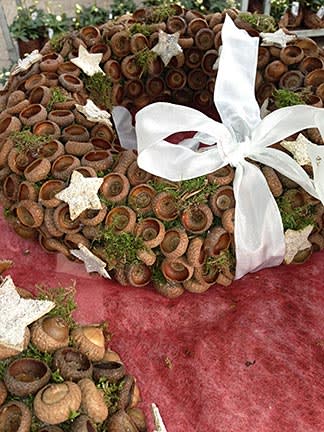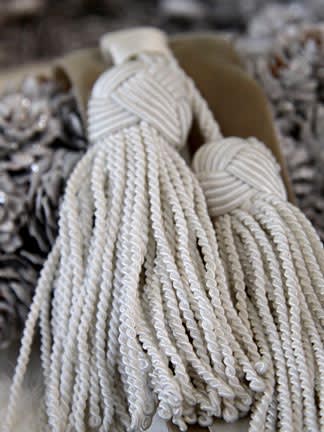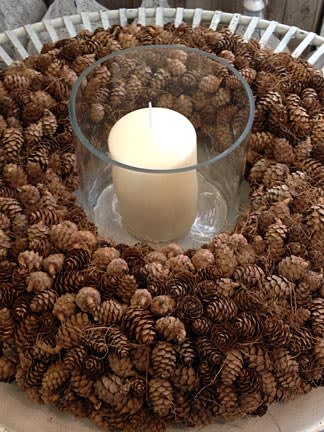 Materials:
Wreaths in acorns, beech nuts, pine cones etc.; ribbon in silk or satin; stars made from bark; moss and lichen; hot glue; gold or silver spray.

Method:
. Take the ready-made wreath.


Decorate it by making a pretty loop with your favourite ribbon and add some stars made from bark, which you stick with hot glue.


Moss and lichen are also a beautifully decorative touch.


And a hint of gold or silver spray paint could herald the arrival of the Christ Child and winter.
Tip:
Let your imagination run wild but don't go over the top. Less is generally more, and too much ends up looking kitschy and gaudy.
You'd prefer a wreath from the professionals? Click HERE for our showroom.