Fleurop flowers & chocolate ladybird from Munz


Read this section for more information about the sweet chocolate ladybird from Munz and the symbol of luck, the once salty beverage of cocoa, an unknown man from Ticino who founded a famous chocolate factory and became a supplier to the Italian king ... and chocolate as a mood lifter.
Fleurop flowers & chocolate ladybird from Munz: a promise of luck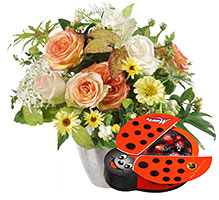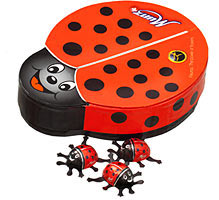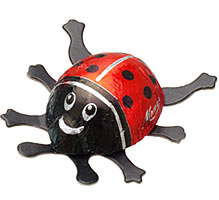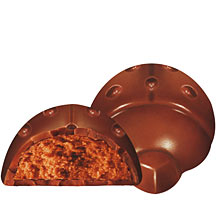 At first glance, the chocolate ladybird is a cheerful package in the form of a ladybird with wings that unfold. But when you open it - well, you really have struck it lucky because 32 little praline-filled ladybirds are smiling up at you, each one individually wrapped. Together they make up 150 g of the finest Munz chocolate from the Swiss firm of Maestrani.
Admittedly, there are other lucky charms. But few are as charming as the ladybird, particularly when it's made of the finest chocolate and is therefore delectable. No wonder flowers with a chocolate ladybird are almost irresistible.

Fleurop flowers & chocolate ladybird from Munz? You'll find the shop HERE.
Why and when ladybirds bring you luck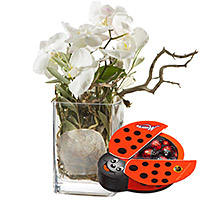 The "lady" in ladybird actually refers to Our Lady. Because it eats pests in gardens and in agricultural crops, farmers believed it was a gift from the Virgin Mary and named it after her. They also made it into a symbol of luck. In Provence, for example, a man on whom a ladybird settles is destined to get married soon. If, however, women in that area are waiting for "Mr Right", they place a ladybird on their index finger and count the seconds until it flies away. Every second means a year to wait before the wedding. But you aren't allowed to shake one off or actually kill it, because that is said to bring bad luck.
Ladybirds are used for much more today. Whether to wish someone a happy birthday, luck in a forthcoming exam or a happy day: you can't go wrong with ladybirds, particularly when they're a treat to eat.

Fleurop flowers & chocolate ladybird from Munz? You'll find the shop HERE.
From salty cocoa to sweet chocolate: a fascinating story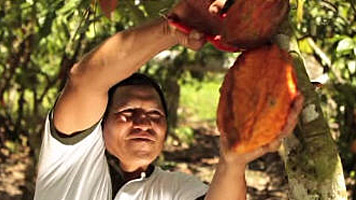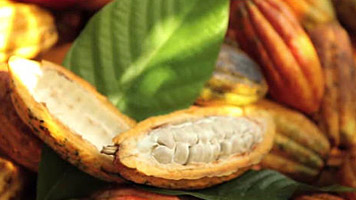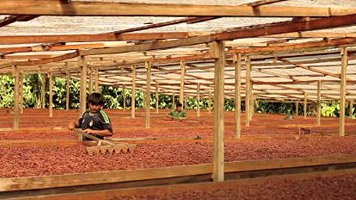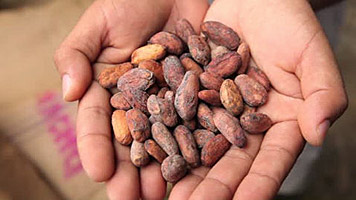 When cocoa, then named "Xocolatl" (chocolate), was discovered as a drink by the Mayas more than 3,000 years ago, its most important property was the foam. This was created by pouring the brew repeatedly from one vessel into another from a height of approximately 30cm. Xocolatl was said to dispel fatigue, which probably has something to do with the theobromine contained in cocoa.
The first European to come across cocoa beans was Christopher Columbus. But it was Hernando Cortés who brought them to Spain. The first shipload reached Seville in 1585. The Europeans changed the beverage, which had previously been quite bitter, by leaving out cayenne pepper and salt and adding honey and cane sugar instead. A little later, chocolate reached Piedmont in Italy through Catherine Michelle of Spain and Duchess of Savoy, and went on to conquer other countries that are part of Europe today. However, it was to be some time before it was produced in Switzerland.

Fleurop flowers & chocolate ladybird from Munz? You'll find the shop HERE.
Maestrani: a man from Ticino lays the foundations of exquisite Swiss chocolate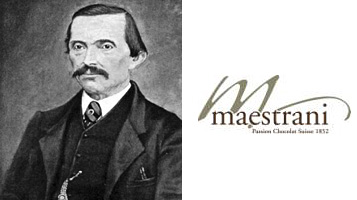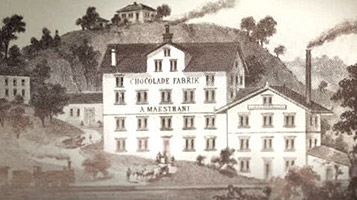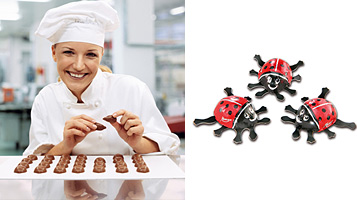 In the early 19th century, chocolate specialties from Lombardy were the height of fashion. Giuseppe Maestrani of Ticino therefore went there to learn the art of chocolate making. When he became self-employed in 1825 and opened his doors for the first time in Lugano, his chocolate shop was one of only a few in Switzerland.
Chocolate-making must have been in the family's blood. In 1852, his son Aquilino also took up this profession and opened his own firm in Lucerne after many years of learning and travelling. 1852 is therefore considered to be the actual year in which the present company was founded. At that time, Maestrani was one of the first companies to produce Swiss chocolate, and even in those days its name was synonymous with exquisite pleasure - also demonstrated by the fact that the company became a court supplier to King Umberto I of Italy in 1884. In 1998, the firm, by then a public limited company, purchased the chocolate factory Munz in Flawil and moved its headquarters to that location.
By the way: Maestrani produces more than 25 million of the little Munz ladybirds every year, and punches out more than 150 million ladybird legs to do so. In addition, the company has a demand for more than 3500 tonnes of chocolate every year.

Fleurop flowers & chocolate ladybird from Munz? You'll find the shop HERE.
Chocolate ladybirds are good for you, so are flowers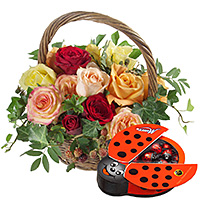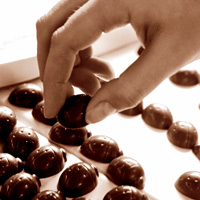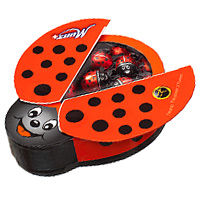 Chocolate doesn't just taste good, it is also good for your health. The theobromine it contains has a stimulating effect and is slightly mood lifting, and the phenylethylamine is even thought to be a natural anti-depressant.
And the flowers? They pack a punch too. A study conducted by Rutgers University in New Brunswick (USA) has proved that flowers are also a natural mood lifter. Anyway, all participants in the study displayed a genuine smile and pleasure after receiving a gift of flowers. They also stated that they felt more zest for life. It also turned out that flowers deepen friendship.

Fleurop flowers & chocolate ladybird from Munz? You'll find the shop HERE.